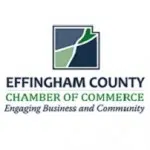 Effingham, IL -(Effingham Radio)- The Effingham County Chamber of Commerce celebrates the opening of new businesses and welcomes new Chamber members with ribbon cuttings, new member pictures and other events and activities.
Kris Alison Photography specializes in weddings, special events, portraiture and real estate photography. For more information, visit www.krisalison.com.
Shown in the photo are (L-R): Chamber Ambassador Steve Will; Owner Kristin Probst and Chamber Ambassador Debbie Womack.
About the Effingham County Chamber of Commerce
Founded in 1917, the Effingham County Chamber of Commerce is the county's leading advocate and champion for business. The Chamber works to create a climate of growth and success in our community by providing leadership opportunities as well as volunteer programs and businessbuilding initiatives that focus on the critical priorities of Effingham County businesses. By leveraging the support, talent, and resources of our members, the Effingham County Chamber is leading efforts to achieve business success and community growth.
For Chamber membership information, contact Becky Brown at (217) 342-4147.