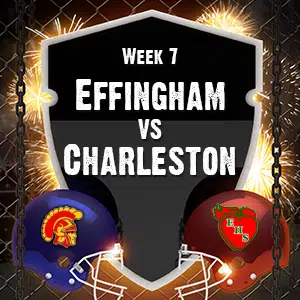 Effingham returns home for the first time in 3 weeks as they take on the Charleston Trojans for homecoming. Effingham looks to continue their winning ways riding a 4 game win streak, while Charleston looks to win their first game of the season and snap their 16 game losing streak dating back to 2016.
After losing the first two games of the year Effingham has looked very impressive and scoring on all sides of the ball offense, defense and special teams. Last week they set a new school record for most points in a game with 64. Landon Wolfe will look to continue his outstanding play the last several weeks slinging 11 TDs in the last three games. Wolfe also last week became Effingham's all time career passing yard leader.   Effingham has been playing spoiler for other schools homecomings and they hope roles are not reversed this week.
Last week for the Trojans, they lost a heart breaker (no pun intended) 26-25 to Lincoln on the last play of the game. This season Charleston have been outscored 95-187 but this is a veteran team with 19 seniors. Some players to watch out for are senior QB Dalton Haworth  and senior RB Nick Sweeney.  It has not been easy for Charleston in recent years, since 2013 the Trojans record stands at 5-46. They will try to turn their luck around on Friday night and Effingham will look to become playoff eligible with win number 5.
Homecoming festivities will take place during halftime of the game  and you can catch all the game action on 100.5 and 105.5  Jack FM.