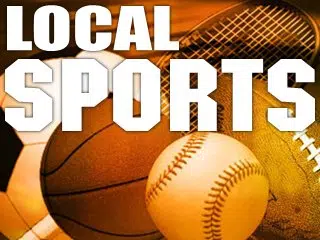 High School Tennis
Effingham defeated Vandalia 9-0
Singles
#1  EHS Chloe Funneman won 6-1 6-0
#2 EHS Lauryn Douthit won 6-0 6-0
#3 EHS Skyler Schafer won 6-0 6-0
#4  EHS Riley Arend won 6-0 6-0
#5  EHS Caroline Kull won 6-0 6-0
#6  EHS Riley Seachrist 6-0 6-0
Doubles
#1  EHS Funneman/Douthit won 10-2
#2  EHS Schafer/ C. Kull won 10-2
#3 EHS  Arend/ Lydia Kull won 10-0
St. Anthony won 12-0 over Paris
Singles 
#1  Emilee Mossman won 6-0 6-0
#2 Allison Kowalke 6-1 6-0
#3 Averee Greene 6-0 6-0
#4 Catherine Willenborg 6-0 6-0
#5 Jessica Cook  6-0 6-4
#6 Caroline Deters  6-1 6-1
#7 Allie Dasenbrock 6-2 6-1
#8 Karlee Roepke 4-6 6-3 10-1
Doubles
#1 Kowalke/Greene 6-0 6-0
#2 Dasenbrock/Willenborg 6-1 6-1
#3 Mossman/Cook 6-1 6-0
#4  Deters-Roepke 6-2 6-3
High School Golf
St. Anthony won 111 to 145 in a match against St.Thomas Moore at the Effingham Country Club. For St.A  Nathan Schultz 35, Luke Ludwig 38, Ben Strullmyer 38, Luke Flaig 41,  Zach Wortman 45, Alex Erickson 48. Other scorers for St. A Jayden Rios 38, Thomas Chojnicki 41, Ryan Schultz 43, and Darin Hutchison 58.
Altamont won a triangular meet with a team score of 183 at Oak Glen Golf Course in Oblong against Tri County and Oblong (both teams finished with scores of 199). For Altamont Grant Schmidt took away medalist honors with a 39, Bryton Pruitt 46, Tyler Stonecipher 47, and Kevin Hall 51.
Effingham took 3rd in a four team meet with a score of 187 at Decatur Southside Golf Course. For Effingham Adien Black 44, Tate Niebrugge 46, Ben Donsbach 48, Austin Waldhoff 49, Ryker Schneider 49, and Colby Heaton 54. Taylorville won with a 178 Mt.Zion got 2nd with a 180, and Shelbyville got 4th with a 207.
St. Anthony Girls Golf team won a match against St. Thomas Moore 167-176. For St. A Ava Wegman and Macy Ludwig were co medalists shooting a pair of 38s, Ellie Wegman had a 45, and Regan KOester shot a 46.
T-Town Boys golf won against Pana 187 to 220 at Cardinal Golf Course For the Shoes medalist Carter Jansen 44, Jacob Herd 45, Zach Ruholl 45, Asa Hanson 49, Andy Niebrugge 49, Drew Kerner 51, Derek Ozenkoski 53, and Gavin Meyer 56.
High School Volleyball 
Effingham won against Lincoln 25-16  25-18. Effingham is now 4-7 overall on the season Effingham also won the JV contest 25-21  23-25  15-12. Lincoln would win the the Fresh/Soph contest 13-21  21-9  15-10.
Windsor/Stew-Stras defeated T-Town 25-19  25-20. W/SS now improves to 7-3 overall on the season. T-Town would win the JV contest 20-25  26-24  25-18.
Neoga defeated Altamont 25-16  26-28  25-21. Altamont now drops to 6-4 on the season. Altamont won the JV contest 25-14  25-20.
St. Anthony defeated CHBC 25-21  25-22. CHBC won the JV contest 25-21  25-20. St.A would win the Fresh/Soph contest 25-14  25-22.
High School Soccer 
Breese Central defeated St. Anthony 3-0
Junior High Baseball 
Altamont defeated CHBC 10-4 in Class 2A regional action. Altamont improves to 10-6 and will take on South Central in the regional Semi-Finals. CHBC falls to 3-12 on the year and will face Sigel/St.Michael on Thursday for their final contest of the year.
Junior High Cross Country 
St. A/Sacred Heart boys finished in 1st place with 108 at the Shelbyville Invitational
Nick Wiedman – Sacred Heart finished in 3rd overall
Conlan Walsh –  finished in 4th overall
Left to Right :  Will Fearday, Samuel Link, Griffen Elder, Max Sager, Conlan Walsh, Aidan Braunecker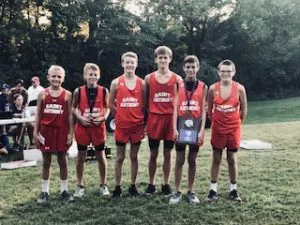 Park District Flag Football 
The Effingham Monument Co Cowboys defeated the Martins IGA Jets 28-6
The Adhatters Raiders defeated the SDS Falcons 7-6
The Martins IGA Jets defeated the Effingham Express Care Chiefs 20-6
The Merz Heating & Air Bengals defeated the Harge Orthodontics Titans 24-6