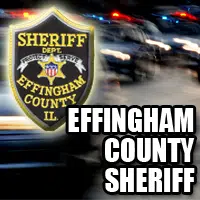 EFFINGHAM COUNTY, IL-(Effingham Radio)- On 6/27/18 at 8:01AM Effingham County 911 Telecommunicator Jordan Ping took a 911 call of a female in labor who was traveling south bound on Interstate 57 approximately ten miles south of Effingham.
The caller advised that her daughter was in active labor and that she was pulling over to wait on an ambulance.
Telecommunicator Ping paged out the ambulance and Watson first responders and began pre-arrival instructions with the caller.
The labor progressed rapidly and with the help of Telecommunicator Ping giving instructions over the phone to the mother, the baby girl was delivered before the ambulance and first responders arrived at 8:12AM.
Sheriff Mahon stated that Jordan did an outstanding job of staying calm and delivering pre-arrival instructions during a very stressful situation.
He is a credit to his profession and the men and women who go to work every day and are prepared to assist our citizens on the other end of that emergency 911 call.
911 Telecommunicator Jordan Ping is pictured receiving a 911 Stork Delivery Award Pin from Effingham County Communications Supervisor Tina Daniels and Sheriff Dave Mahon.