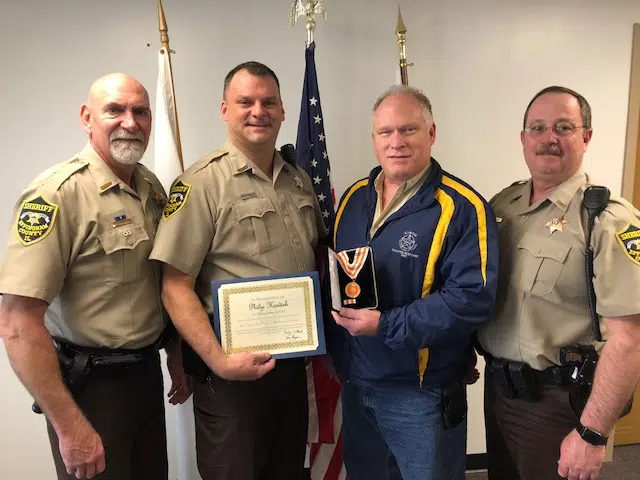 ***Press Release***
Deputy Phil Hardiek of the Effingham County Sheriff's Office was recently presented with the Meritorious Service award from the Board of Trustees of the Illinois Fraternal Order of Police.  The certificate states Deputy Hardiek is recognized, "for his quick thinking in coordinating personnel in the rescue efforts that ultimately saved a woman's life.  His actions exemplify excellent police service provided to his community".  Deputy Hardiek was nominated for the award by FOP Chairman of Trustees Terry Trueblood and Effingham County Sheriff David Mahon.
The actions stated in the certificate occurred at the Dieterich Fourth of July Parade in 2017 when a woman, who was a spectator along the parade route, collapsed.  The woman received CPR from EMS and her sister.  The woman later recovered.
The Effingham County Sheriff's Office is proud of the recognition Deputy Hardiek received and Sheriff Mahon believes this one action exemplifies how the Effingham County Deputies serve our community.
Pictured in the photo, left to right:
Sheriff David Mahon, Deputy Phil Hardiek, FOP Chairman of Trustees Terry Trueblood, Chief Deputy Paul Kuhns.
***Press release and photo courtesy of the Effingham County Sheriff's Department***