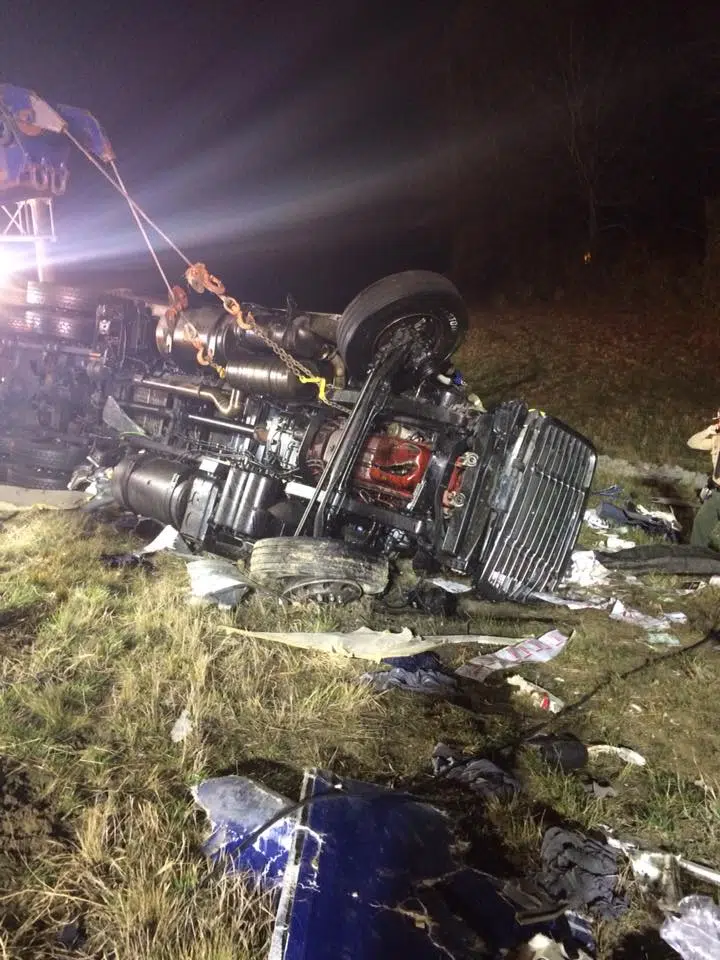 Photo via  Effingham Fire Department 
Effingham, Il – Late Saturday night around 10:30 p.m. Effingham Police Department (EPD), Effingham Fire Department (EFD), and Abbott EMS were all dispatched to a multi-vehicle roll over accident on I-57 northbound near mile marker 160.
Illinois State Police District 12 released a crash report, and during the preliminary investigation found the accident was due to Shirley M. Klitzing, 83, of Brownstown driving southbound on the northbound lane to then crash into Richard P. Messerve, 68, of  Mayer, AZ.
According to ISP, "Klitzing  was thrown around Messerve, damaging the front end / driver's side of the vehicle, then overturning Messerve into the nearby guardrail."
EFD found Klitzing's vehicle in the northbound lanes of traffic facing southbound with her still trapped inside.
After she was removed from her vehicle, she was transported to HSHS St. Anthony Hospital by Abbott EMS before being flown to Carle Trauma Center where she was pronounced dead.
"An extended extrication followed to extricate the driver from the cab of the tractor."
Messerve was pronounced dead on scene.
After the removal of both drivers, EFD cleaned the accident, and had the lanes cleared by 2:25 a.m. this morning.
ISP is still investigating the cause of the accident.