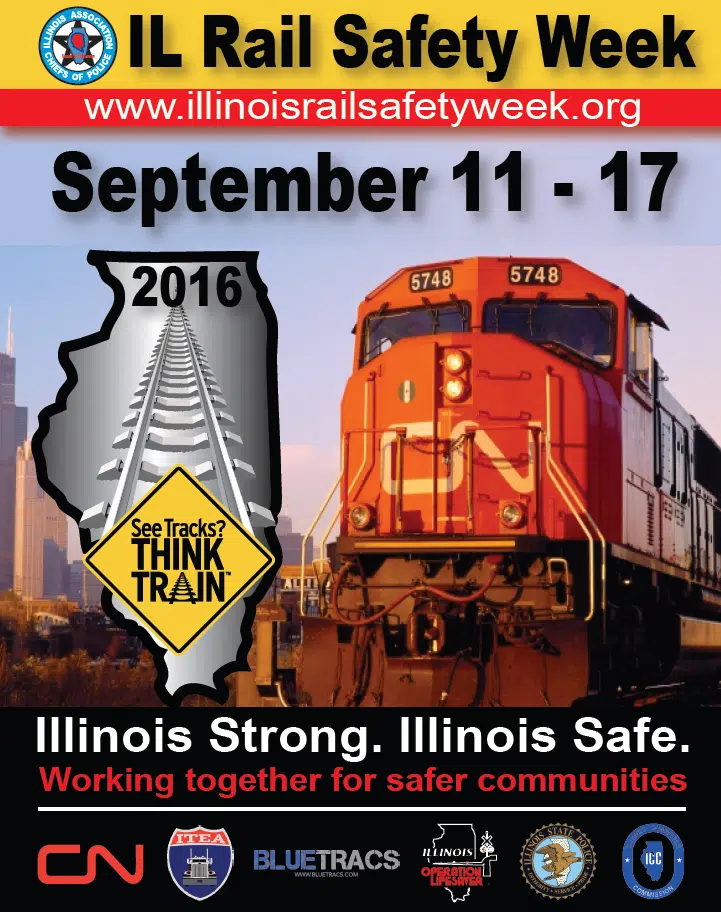 The Third Annual Rail Safety Week starts Sunday and lasts though Saturday. The annual week is coordinated by the Illinois Association of Chiefs of Police and the Illinois State Police.
The ISP seeks to use the week to promote safety for motorists and pedestrians around rails. According to Operation Lifesaver, motorists and pedestrians should follow these tips when considering railroad safety.
Trains cannot stop quickly. Even if a locomotive engineer sees you, IT WILL TAKE THE AVERAGE TRAIN MORE THAN ONE MILE TO STOP.   That is about 20 football fields.
The average train weighs 200 tons, and the average automobile weighs less than two tons.
A motorist is 40 times more likely to die in a crash involving a train than in a crash involving another motor vehicle.
The majority of highway/railroad collisions occur when the train is traveling less than 30 miles per hour.
Pay careful attention at crossings at night and in bad weather.
Because of its size, trains look like they are moving slower than they actually are. It is nearly impossible to predict the speed of an approaching train.
If you are using headphones, please remove them when crossing or walking near railroad tracks.
Once the warning signals begin, it can take as little as 20 seconds for the train to reach the crossing.
Get off your bike and walk it across the tracks.
For more information click here!