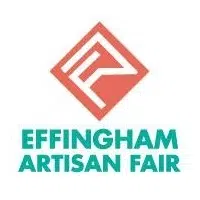 The 12th Annual Effingham Artisan Fair will be held today and tomorrow in downtown Effingham.
Tonight, head downtown to see the "Artist Soft Opening", when artists display their work early, as well as the "Arts & Hearts". From 5:00pm to 8:00pm, Community Support Systems will hold their art auction, local non-profits will have informational booths, and TREC will be providing activities for the whole family. This includes the Kids Bike Race and the Adults Big Wheels Race. Additionally, a food fair featuring Martin's IGA, The Dog, Dad's Smokin' Butt BBQ, Joe's Pizza & Pasta, and the Sausage Haus will be held.
Tomorrow from 10:00am to 4:00pm, downtown Effingham will be transformed into an art gallery. Artwork from over 30 artists, including oil paintings, pottery, jewelry, and sculptures will be available for purchase. Also available tomorrow are the Kids Korner and Food Fair.
Happening both nights of the Artisan Fair is the "Downtown Art Crawl". Local businesses in Downtown Effingham will be featured on a map and will have crafts, live art, local art exhibits, live music, and locally made cut-outs for photo ops. After completed, taking the map to Stang Arts will allow individuals to be entered for a chance to win "downtown dollars". Additionally, a beer, wine, and whiskey tasting and live music will be held downtown. Friday night enjoy music from Andy Rueter and Allie Keck. Saturday, live acts will feature LP & The Honeybee, Andy Rueter, and The Greyhounds.
For additional information regarding the Artisan Fair, visit call 1-800-772-0750, 217-342-5310, or visit www.effinghamartisanfair.com.