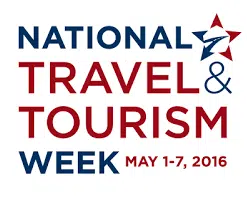 Effingham Tourism Director Jodi Thoele stopped by the Monday studio to talk about National Travel and Tourism Week. The week highlights the benefits to of tourism to the area, including the jobs it supports and the economic boost it brings to the community. Press play above to hear the full interview.
"Travel and tourism supports 15 million jobs across the nation, including many right here in Effingham. We are fortunate to have a dedicated network of tourism partners, including 17 hotels, over 65 restaurants, and many great attractions here," said Jodi Thoele, Director of Tourism for the City of Effingham CVB.
Travel and tourism is a $31.8 billion industry for Illinois, providing over 288,700 jobs and generating $2.6 billion in local tax revenue. In Effingham County, travel and tourism generated $145.09 million in travel expenditures and supported over 900 jobs in 2014. Effingham County also received $2.74 million in local tax receipts from travel and tourism in 2014.
Travel is a broad and diverse industry employing a vast workforce, from airline and hotel employees to restaurant, attraction and retail workers. Travel and tourism support employees in other industry sectors, such as construction, manufacturing and finance. This week is about celebrating all that travel encompasses.
The Effingham CVB plans to celebrate travel and tourism throughout the week. We will be promoting testimonials from our "Your Effingham Experience" contest throughout the week and featuring area attractions that make Effingham a great travel destination. The contest was ongoing from April 11 – April 29. We will feature the testimonials on our social media sites (Facebook: Visit Effingham) and we will draw a winner of that contest each day of the week (Monday – Friday). Winners of this contest will get a prize package from area attractions. "We've had some wonderful testimonials so far. Visitors are always interested in what the locals love. This contest was the perfect way to showcase what Effingham residents love about their town," said Thoele.
Residents can also stop by the Effingham Visitor Center (1505 Hampton Dr.) to register to win 4 tickets to Splash City Family Water Park in Collinsville, IL and a $100 VISA gift card.