Photo from left to right: Glenda Stottlemyre, Bronson Shehorn, Bev Britton, Emily Liggett,
Dawn Erwin, Jill Long, Jessica Craft, Brenda Rinehart, Bobby Osborne and Sheriff Andy Myers.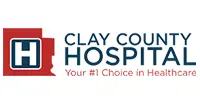 Flora, IL -(Effingham Radio)- Clay County Hospital and Medical Clinic employees present a $3,000 donation to the "Shop With A Cop" program to Sheriff Andy Myers. This is the 14th consecutive year that Clay County Law Enforcement has teamed up to make Christmas a little more special for area children. Every year the children that are chosen are outfitted from head to toe with new clothing including shoes and coats. Once the children receive their clothing they are allowed to pick out a special gift for themselves or a loved one. This year's event is on the 13th of December at Wal-Mart. Clay County Hospital and Medical Clinics is proud to support the program and it's a great opportunity for the employees of Clay County Hospital and Medical Clinics to be able to provide support for this service to children in the community.