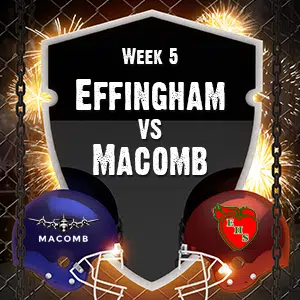 Effingham made the long trip to Macomb on Friday night and it was well worth it coming away with a 54-19 victory. It was a high scoring affair in the first half 8 total TDs between both teams in the first two quarters of action. Effingham got out to a early 14-0 lead Landon Wolfe who was on his way to having an outstanding night he threw 2 TDs, one 54 yard strike to Tristin Duncan and a another this time from 5 yards out to Kolin Waymoth. The Bombers would comeback to score 13 unanswered points to close out the first quarter. VJ Lane threw 2 TDs, one 15 yard pass to John Ogle and the other a 27 yard TD to Evis Campbell. Macomb would miss the extra point on the second TD however to make the score 14-13 after one quarter.
The Hearts would add 2 more TDs to start the 2nd quarter Logan Brown would fine the end zone from 3 yards out. Wolfe would find Duncan again this time it was a 60 yard bomb to make it 28-13 midway thru the 2nd quarter. Macomb would get on the scoreboard one more time Lane found Campbell in the back of the end zone on a 3 yard TD pass to make it 28-19. Effingham would find the end zone one more time before the half was over. A Wolfe to Duncan connection again on a short 5 yard pass to make it 34-19 at halftime.
Then it was all Hearts coming out of the locker room, Kendall Ballman scored on a 33 yard run, Wolfe found Duncan again on a 71 yard connection, and Gage Franklin would recover a fumble on a high snap on a punt and would run it in for the final TD of the night. The final score was 54-19.
Landon Wolfe had a really good night finishing with 331 yards and 5 TDs. Tristin Duncan had a big night receving all those passes compiling 257 yards and hauling in 4 TDs. Effingham now improves to 3-2 overall on the season and gets back into Apollo conference action by traveling to face Mahomet-Seymour.
Hear Head Coach Brett Hefner thoughts on the game