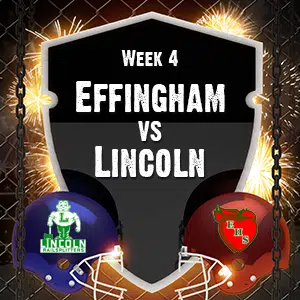 Effingham is on cloud nine after winning their first win of the season last week against Mt.Zion.  They are hungry to continue their momentum as they go on the road for the first time this season as they travel to Lincoln. The Hearts won 41-14 last week against Mt. Zion scoring on offense defense and special teams a total team win. Lincoln last week lost 47-13 to Mattoon.  Effingham looks for a repeat of what happened in last year's game against Lincoln, the Hearts were victorious 63-14 to tie a school record for most points in a game.
Lincoln has been trying to change the culture of their program as they are only two seasons removed from snapping a 39 game losing streak. Lincoln started off this season with a 20-13 victory over Macomb. They actually had a 20-0 lead at one point but held on for the victory. The next week against Mt. Zion they lost 13-3 then last week falling to Mattoon 47-13. After QB Dreyden  Pozsgai struggled to get out of the gate, the Railers tried a different strategy starting  Noah Funk at QB. He completed a long TD pass early on but unfortunately did not connect on another pass the rest of the game.  Mattoon used a combo of a good rushing attack and big after big play to secure the victory.
Effingham looks to get win number 2 both overall and in the Apollo. Lincoln is 1-2 on the season and 0-2 in the Apollo. The game is Lincoln's homecoming game so they surely will be fired up. You can listen to the game on 100.5 and 105.5 Jack FM and streaming on Effinghamradio.com and the Effingham Radio App.