Effingham, IL-(Effingham Radio)- The Effingham County Chamber of Commerce celebrates the opening of new businesses and welcomes new Chamber members with ribbon cuttings, new member pictures and other events and activities.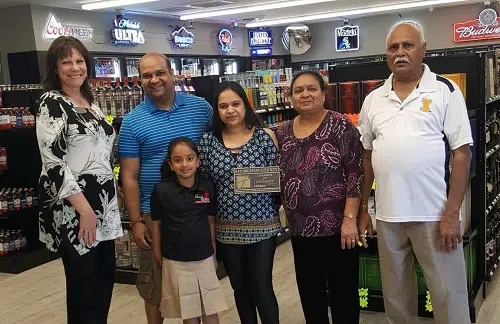 A1 Liquor offers a large selection of wine, beer, liquor and now offers video gaming. To learn more, visit them at 101 W Fayette Avenue, Effingham. Shown in the photo are (L-R): Becky Brown, Chamber Membership Director; Nirav Patel, Vice President; Khushi Patel; Dipal Patel, Store Manager; Chandrika Patel, President and Chitranjan Patel, Secretary.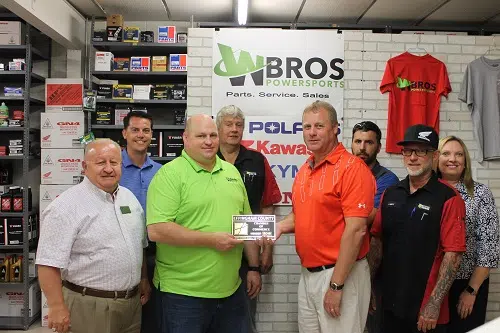 W Bros Powersports offers sales and service of new and pre-owned ATV and side by sides, cruisers, street bikes, and dirt bikes from Polaris, Honda, Kawaski, and Kymco. Financing and insurance options are offered, as well. Business hours are Monday through Friday from 9 am to 6 pm and Saturday from 9 am to 1 pm, located at 202 E Main Street, Teutopolis. For more information, visit www.wbrosonline.com. Shown in the photo are Front Row (L-R): Chamber Ambassador Dan Patton; Erik Sefton, Store Manager; Chamber Ambassador Steve Will and Larry Oakes, Service Manager. Back Row (L-R): Chamber Ambassador Jay Buehnerkemper; Bob Ornsdorf and Chris Harden, Technicians; and Chamber Ambassador Debbie Womack.
903 N Keller Drive P O Box 643
Effingham, IL 62401
www.effinghamcountychamber.com
Phone: (217) 342-4147 Fax (217) 342-4228
About the Effingham County Chamber of Commerce Founded in 1917, the Effingham County Chamber of Commerce is the county's leading advocate and champion for business. The Chamber works to create a climate of growth and success in our community by providing leadership opportunities as well as volunteer programs and businessbuilding initiatives that focus on the critical priorities of Effingham County businesses. By leveraging the support, talent, and resources of our members, the Effingham County Chamber is leading efforts to achieve business success and community growth.
For Chamber membership information, contact Becky Brown at 217/342-4147.