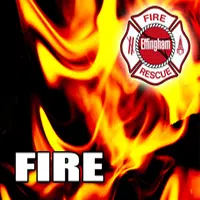 A residential fire damaged two Effingham homes on Saturday afternoon.
According to a post on their Facebook page, the Effingham Fire Department were called to a residential structure fire at 3:37pm at 907 S Glenwood Street. The post stated that due to receiving multiple 9-1-1 calls and gathering information from the police officers on scene, the call was upgraded to a full-still adding more Effingham Fire crews, Teutopolis Fire crews, and Abbott EMS to the scene and moving Watson and Montrose Fire crews to the Effingham Fire Stations.
Effingham Fire Chief, Joseph Holomy, was the first to arrive on scene and reported two structure fires and two vehicles on fire between the residences. While extinguishing the fires, the Effingham Fire Department found a family cat in the residence at 905 Glenwood. The crew removed the cat from the home and utilized a pet oxygen mask on the cat, who was in respiratory distress. The cat was taken to a Veterinarian and is expected to recover.
Extensive damage to the residences left them both deemed uninhabitable and both vehicles were destroyed in the fire. The cause of the fire is under investigation from the Effingham Fire Department and the Illinois Office of the State Fire Marshal. However, the cause was deemed not suspicious.