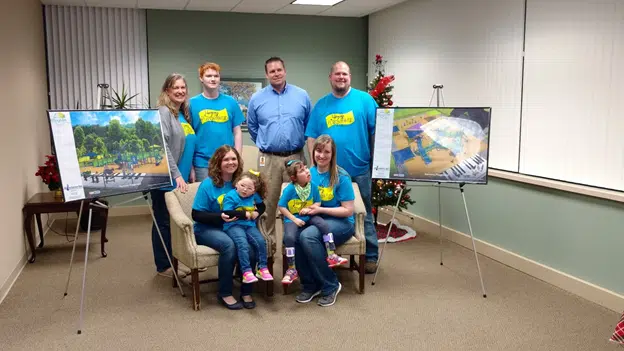 (Above) Harmony Playground volunteers celebrated the success of their Giving Tuesday fundraiser at Southeastern Illinois Community Foundation. The group raised $80,264 of their $100,000 goal. (Pictured: back row, L-R: Sara Myers, Alex Myers, Aaron Myers, Daniel Drake. Front row, L-R: Elizabeth Hastings, Adelaide Hastings, Lily Drake, Emily Drake)
Effingham, Il –  Harmony Playground volunteers raised $80,264 on Tuesday, November 28, known internationally as Giving Tuesday.
"We are blown away by the response from Effingham and its surrounding communities," expressed Aaron Myers, chair of the Harmony Playground fundraising committee."
"I know that we live in a generous community, but I did not know what to expect from a community that has already given so much in support of our fundraising efforts."
Southeastern Illinois Community Foundation, Harmony Playground, and the Effingham Park District would like to thank everyone who contributed to the Giving Tuesday fundraiser, including these sponsors:  Panera Bread
Martin's IGA
Smoothie King
Midland States Bank
Cromwell Radio
Effingham Performance Center
Bruce LeMoine of Armstrong Teasdale in St. Louis
The Harmony Playground Fund is a fund of Southeastern Illinois Community Foundation, a regional 501(c)(3) non-profit organization that manages more than 130 funds that serve the immediate and long-term needs of southeastern Illinois.
For more information, contact Joedy Hightower, President/CEO, at 217.342.4988 or visit
www.enrichingourcommunity.org.