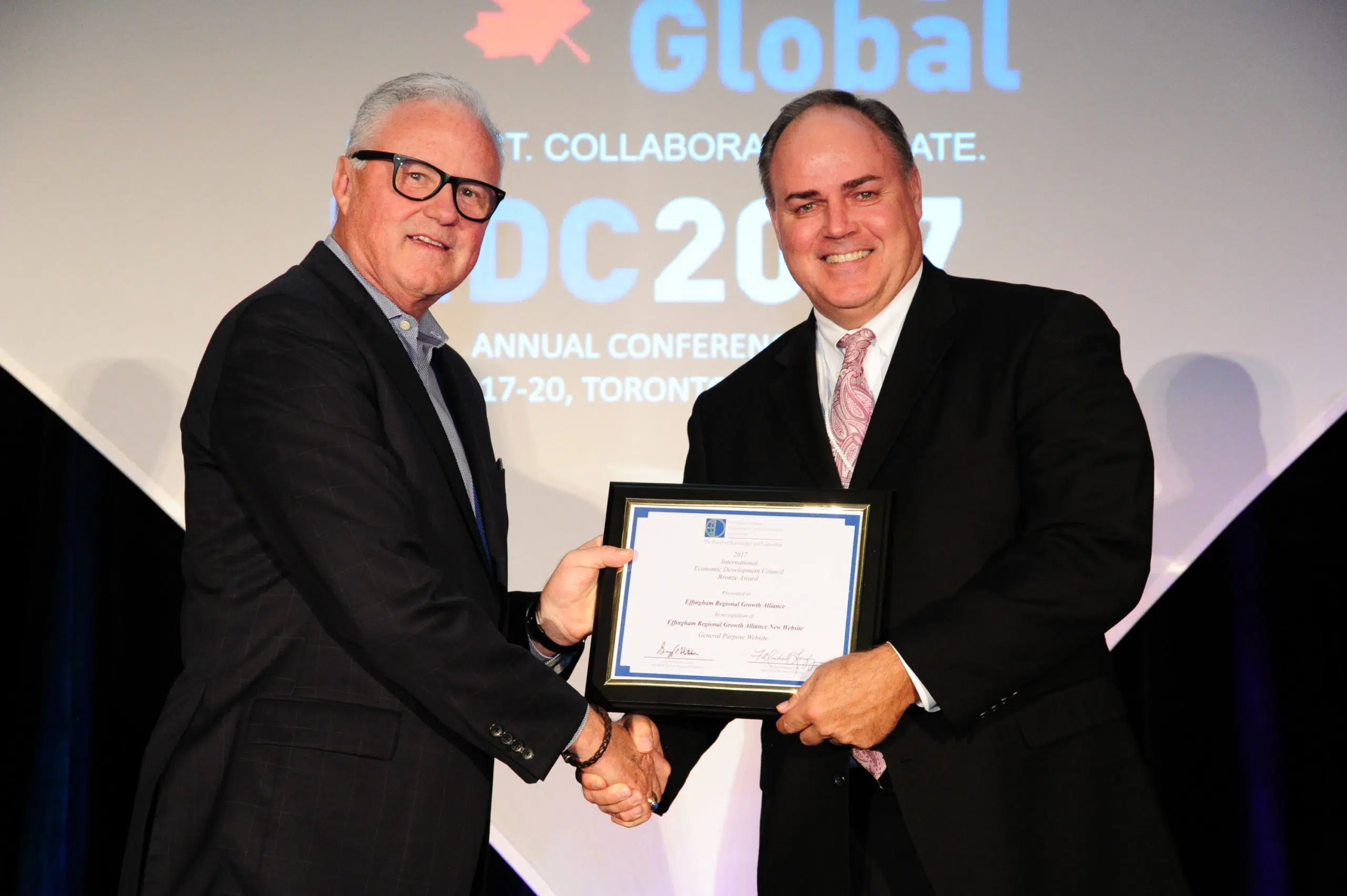 ***PRESS RELEASE ***
Washington, DC (Sept. 19, 2017) – Effingham Regional Growth Alliance (The Alliance) won a Bronze Excellence in Economic Development Award for its Effingham Regional Growth Alliance New Website, a project in the category of General Purpose Website of the International Economic Development Council (IEDC). The website can be viewed at www.groweffinghamcountyil.com .
The honor was presented at an awards ceremony on Tuesday, Sept. 19, during the IEDC Annual Conference, which was held Sept. 17 – 20, in Toronto, Ontario, Canada.

"On behalf of the IEDC board of directors and Excellence in Economic Development Awards Advisory Committee, congratulations to Effingham Regional Growth Alliance."
Not only did they work to provide a necessary service to their community; but also, their participation in the awards program sheds light on their stellar projects which other communities can now use as a benchmark."  – Michael Langley, FM, CEO of GREATER MSP, Minneapolis–St. Paul, MN, and 2017 IEDC Board Chair
The Alliance President/CEO Craig Nielson accepted the award.
"We are pleased to be recognized internationally for our efforts in creating a clean, clear and concise website with current data, information layers, and photos that represent the people and opportunities available in Effingham County, IL.", Nielson said.
The Alliance Chairman Chuck Deters said the investment that our members are making in the organization are paying off with this type of recognition.
The Alliance is focused on making the county, cities and villages we live in prosper and provide opportunity for growth.
The IEDC received more entries for award consideration than in any previous year.
"The awards process is a thorough, non-biased and multi-layered process."
"These are extraordinary accomplishments for all winners, and an overall great effort by all participants."
"We look forward to next year's awards competition," Langley said.
About the International Economic Development Council
The International Economic Development Council (IEDC) is a non-profit membership organization serving economic developers. With more than 5,000 members, IEDC is the largest organization of its kind. Economic developers promote economic well-being and quality of life for their communities, by creating, retaining and expanding jobs that facilitate growth, enhance wealth and provide a stable tax base. From public to private, rural to urban, and local to international, IEDC's members are engaged in the full range of economic development experience. Given the breadth of economic development work, our members are employed in a wide variety of settings including local, state, provincial and federal governments, public-private partnerships, chambers of commerce, universities and a variety of other institutions. Among many activities which benefit the economy, IEDC's members create high-quality jobs and develop vibrant communities. www.iedcONLINE.org.
Press Release, and photo courtesy of  Craig A. Nielson; President/CEO; Effingham Regional Growth Alliance