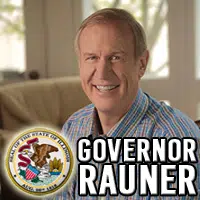 Governor Rauner called for compromise when it comes to ending the budget impasse and moving forward with growing Illinois' economy.
"We haven't had a full year budget of some kind in a year-and-a-half and we haven't had a state budget that is truly balanced in decades. We have more than $11 billion in unpaid bills, a $130 billion unfunded pension liability, and the worst credit rating in the nation. We have the 5th highest overall tax burden and one of the lowest rates of job creation of any state," Rauner said during the speech.
He said that issues leading to the impasse have building for years and include irresponsible borrowing, undisciplined spending, and noncompetitive regulations and taxes. Rauner cited Illinois' declining population as evidence that changes needs to be made. He also mentioned how the budget impasse was negatively impacting human services groups.
He suggested workers comp reform, property tax relief along with term limits ,and redistricting reform, as places for compromise to start. Praise was also given to the Senate for bipartisan efforts in coming to a budget deal.
"All of us – Republicans, Democrats, and everyone in between – have a moral obligation to work together to bring change. We…together…can return Illinois to a place of hope, opportunity, and prosperity," Rauner concluded.
Governor Rauner's full State of the State Address, delivered on January 25, 2017 in Springfield.