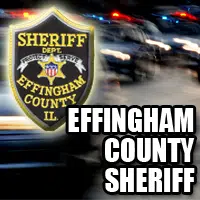 EFFINGHAM, IL-(Effingham Radio)- The Effingham County Sheriff's Department arrested three people and seized 65 pounds of cannabis following a traffic stop. 
On Wednesday November 28, 2018 at approximately 2:49 AM, an Effingham County Sheriff's Deputy, while on routine patrol, observed a white Ford Explorer with New York registration crossing the outside fog line and the center line of the eastbound passing lane of 1-70 as it was approaching 1-57, just south of Effingham.
The Deputy conducted a traffic stop on the vehicle to check on the condition of the driver.
Upon speaking to the driver, Reyes Castellanos, and doing the initial investigation, the Deputy asked for consent to search the vehicle and the driver granted his request.
A search was conducted and 50 foil lined and vacuum sealed bags of Cannabis were located inside the vehicle.
The total weight of cannabis is estimated at 65 pounds.
Arrested were the driver, Reyes Castellanos, age 44, from Farmersville, CA, Jose Barajas, age 22, and Christian Rivas-Garcia, age 26, both from Pihuamo Jal, Mexico.
They were each charged with Possession of Cannabis More than 5,000 Grams, Possession of Cannabis with Intent to Deliver More than 5,000 Grams, and Cannabis Trafficking.
Barajas was also cited for possession of a Controlled Substance – Cocaine.
The Effingham County Sheriff's Office is still actively investigating the seizure at this time.
-ALL PERSONS LISTED ARE INNOCENT UNTIL PROVEN GUILTY IN THE COURT OF LAW-