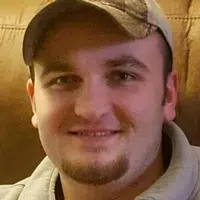 Brian S. Rieman, 25 of Watson, passed away Monday, November 26, 2018.
Funeral services will be held at 10:00 a.m. Saturday, December 1, 2018, at Bauer Funeral Home in Teutopolis with Fr. Joe Carlos officiating. Burial will take place in Watson Cemetery. Visitation will be held from 4:00 p.m. to 7:00 p.m. Friday evening at the funeral home. In lieu of flowers, memorial donations may be given to Brian's daughter, Emilia and will be accepted at the funeral home.
Brian was born January 19, 1993, in Effingham and is survived by his parents, Scott Rieman of Watson and Julie (Nicholson) Rieman of Effingham; daughter, Emilia Lynn Rieman; brother, Mitchell (Stephanie) Ashbaugh of Colorado Springs, CO; sister, Holly (Tom) Curry of Effingham; grandparents, Mary Ann Blei of Effingham, Bill Nicholson of Terre Haute, IN and Connie Rieman of Effingham.
Brian was preceded in death by his grandfather, Clarence Rieman and grandmother, Sally Nicholson.