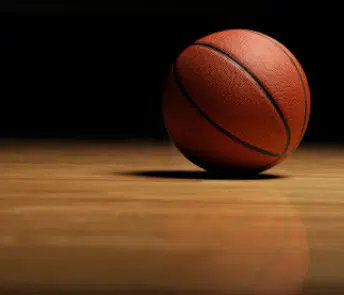 Cumberland Thanksgiving Tournament 
7th Place Game Newton defeated Oblong 54-21. Leading scorers Weber had 11 for Newton and Potts and Meese had 7 for Oblong
5th Place Game  Edwards County defeated Dieterich 63-48. Leading scorers Wallace had 24 for Edwards County and T. Elmore had 14 for Dieterich
3rd Place Game Altamont defeated Cumberland 56-46. Leading scorers Biggs with 30 for Altamont and Gerhardt had 14 points for Cumberland
Championship Game Casey defeated Charleston 84-47.
St. Anthony Thanksgiving Tournament 
7th Place Game Tolono Unity defeated Okaw Valley 52-41. Leading scorers were Porter with 17 for Unity and Crawford with 11 for Okaw Valley
5th Place Game Effingham defeated Robinson 60-53. Leading scorers were Landon Wolfe with 25 for Effingham and Black with 17 for Robinson
3rd Place Game Breese Central defeated St. Anthony 55-49. Leading scorers were Thomas with 23 for Breese Central and Fearday with 9 for St. A
Championship Game Highland defeated Mattoon 60-49 in overtime. Leading scorers were LaPorta with 26 for Highland and Princko, Ghere and Spitz with 10 for Mattoon
All Tournament Team
Left to Right:   Kaden Fearday (St. Anthony), Chance Black (Robinson), Jacob Dust (St. Anthony), Jake Kruse (Highland), Siton Thomas (Breese Central), Stepehen Torre (Highland), Jaydon Noe (Mattoon), Jadyn Prinko (Mattoon), Sam LaPorta (Highland),  Landon Wolfe (Effingham) Tournament MVP.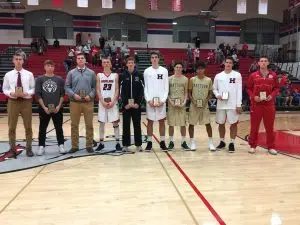 Capitol Classic 
Tetutopolis went 3-1 and took 2nd Place in the Capitol Classic.
The Shoes picked up victories over Marshall 73-53,  59-30 over Mt. Carmel ,  63-32 over Red Hill
In the championship game Fairfield won 74-64
Dawson Smith and Clint Weber were named to the all-tournament team
Girls Basketball 
Robinson Thanksgiving Tournament
The St. Anthony Lady Bulldogs won the championship by going 3-1 and downing Mt. Carmel  56-46 in the championship game. Leading the way for St.A  McHugh had 13 points, Richards had 11 and KinKelaar had 10. The Lady Bulldogs are now 4-1 overall on the season
Clare McHugh and Shea Kinkelaar were named to the All-Tournament team
Bob Kerans Thanksgiving Tournament in Newton 
Effingham took the tournament championship by defeating Newton 60-19  to finish a perfect 4-0 for the tournament. Leading the way for the Lady Hearts Abby Weis and Natalie Carie both had 12 points and Skyler Schafer added 11.
Altamont defeated Flora 69-33 to finish in 2nd with a 3-1 record
Carsyn Fearday (Effingham) Tournament MVP, Abby Weis (Effingham, Miranda Fox (Effingham),  Brooke Runge (Altamont) and JoAnna Schultz (Altamont) were named to the all-tournament
Salem Thanksgiving Tournament 
The Tetutopolis Lady Wooden Shoes split a pair of games falling to Highland 40-25 (L. Niebrugge had 14 points) and bouncing back to win against Carterville 52-50 (C. Bushur had 20 points).
CHBC Girls Thanksgiving Tourney
7th Place Game Cumberland 53-44 over Ramsey. Leading scorers Z. Mitchell and L. Dunaway both had 20 from Cumberland G. Simon with 17 for Ramsey
5th Place Game Macon Meridian 51-33 over Dieterich. Leading scorers E. Jackson had 17 for Meridian and Boerngen had 7.
3rd Place Game CHBC defeated Sandoval 54-31. Leading scorers J. Robertson had 13 for CHBC and N. Andrews had 10 for Sandoval
Championship Game W/SS defeated Neoga 61-35. Leading scorers M. Schlechte with 16 for W/SS and A. Ramert with 12 for Neoga
Players named to the All- Tournament Team Megan Schlecte (Tourney MVP) (W/SS), Nikki Trussell (W/SS), Jaelyn Robertson (CHBC),  Mary Hill (Neoga) and  Olivia Titus (Neoga)