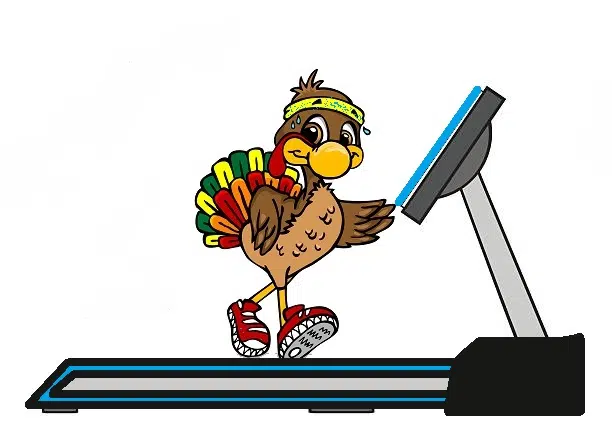 Effingham, IL -(Effingham Radio)- Did you know that the average American consumes 7,625 calories on Thanksgiving Day?  Snacking and eating a traditional holiday dinner with turkey and all the trimmings is the equivalent of more than two and one-quarter times the average daily calorie intake. But what if you could still enjoy all Thanksgiving has to offer, but keep your calories and thus your weight in check?
Brooke Welcher-Miner, registered dietitian for the HSHS St. Anthony's Weight Management Program, shares these tips and tricks for a healthier holiday feast.
Start your day strong.  Get some exercise to start your day. Exercise not only burns calories but also releases endorphins that help reduce stress and keep people in good spirits. There are a number of ways to be active beyond the typical walking, including keeping track of steps per day with holiday shopping, decorating, or house cleaning.
Create classics with fewer calories. Find and fix lower-calorie versions of your favorite dishes, desserts and beverages. Create healthier versions of holiday favorites by using skim milk instead of whole milk, applesauce in place of oil, or a sugar substitute (visit caloriecontrol.org/sugar-substitutes) in place of the sugar in a recipe so you can enjoy delicious food without feeling guilty.
Fuel up before heading out. Too often people go to holiday meals on an empty stomach, planning to indulge on the traditional holiday spread.  Make sure you DON'T SKIP BREAKFAST and try to have a healthy snack before leaving the house. Never go anywhere famished – it can lead to overindulgence and "diet" derailing.
Practice portion control. Save calories by choosing a smaller plate and think of desserts as samples – try one of each (one tablespoon) without going overboard. Need help on determining portion sizes? Check out wikihow.com/Estimate-Portion-Size tips for visually estimating.
Load up on fruits and vegetables.  Make at least half of your plate fruits and vegetables.  These are great low-calorie options that help to keep you full for less. Give yourself a goal to have three to five servings (or more!).
Socialize away from food.  Often people find themselves socially snacking before and after meals. Try to strike up a conversation where food is out of sight. If there is a bountiful buffet, skip foods that can be had "anytime" and opt for small portions of your favorite holiday foods instead.
Drink plenty of water.  Not only will this help keep your stomach full and those feelings of hunger far away, but it also helps to promote healthy digestion. Don't forget to move post-meal as well.  This is a double-whammy as it helps promote digestion and burns a few more calories.
Need extra support to lose weight while learning healthier lifestyle strategies? Contact the weight-loss experts at the HMR Program for Weight Management™ at SAE-HMR-Program@hshs.org or by calling 217-540-2336. Visit stanthonyshospital.org/wm for more information.
HSHS St. Anthony's Memorial Hospital is part of the Southern Illinois Division of Hospital Sisters Health System, which also includes HSHS St. Elizabeth's Hospital in O'Fallon, HSHS St. Joseph's Hospital in Breese, HSHS Holy Family Hospital in Greenville, and HSHS St. Joseph's Hospital in Highland.
About Hospital Sisters Health System
Hospital Sisters Health System's (HSHS) mission is to reveal and embody Christ's healing love for all people through our high quality, Franciscan health care ministry. HSHS provides state-of-the-art health care to our patients and is dedicated to serving all people, especially the most vulnerable, at each of our 15 Local Systems and physician practices in Illinois (Breese, Decatur, Effingham, Greenville, Highland, Litchfield, O'Fallon, Shelbyville, and Springfield) and Wisconsin (Chippewa Falls, Eau Claire, Oconto Falls, Sheboygan, and two in Green Bay). HSHS is sponsored by Hospital Sisters Ministries, and Hospital Sisters of St. Francis is the founding institute. For more information about HSHS, visit www.hshs.org.  For more information about Hospital Sisters of St. Francis, visit www.hospitalsisters.org.