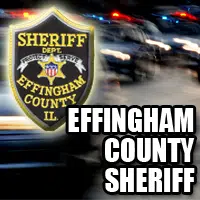 MOUND TOWNSHIP-(Effingham Radio)- An Altamont woman was injured in an accident that occurred in Mound Township on Tuesday evening.
According to a report from the Effingham County Sheriff's Department, the accident occurred at 8:40pm on US Highway 40 at 500th Street.
The report states that a vehicle driven by 58 year old, Marsha K Kraus, of Altamont was traveling westbound on Route 40 and struck a deer at 500th Street.
Kraus stopped the vehicle at the intersection of Whitler St and Division Avenue in Altamont to check the vehicle for damages.
As Kraus attempted to exit the vehicle, it rolled backwards and injured Kraus.
The vehicle continued to roll backwards and came to a rest on the south side of Division Avenue.
Kraus was taken to HSHS St Anthony's Memorial Hospital for treatment.