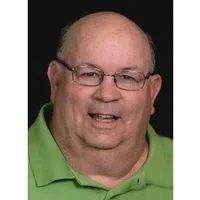 Richard E. "Dick" Deibel, 61, of Effingham, IL, passed away on Monday, November 5, 2018, at his home.
A funeral mass will be held at 10:00 a.m. Saturday, November 10, 2018, at Sacred Heart Catholic Church, 405 S. Henrietta Street, Effingham, with burial in St. Anthony Cemetery in Effingham. Visitation will be held from 4:00 p.m. to 7:00 p.m. Friday and from 9:00 a.m. to 9:45 a.m. Saturday all at the church. Services are in the care of Johnson Funeral Home in Effingham.
In lieu of flowers, the family has requested memorials may be made to Sacred Heart Church Renew and Rejoice Campaign or donor's choice. Online condolences may be shared at www.johnsonandsonsfh.com.
Dick was born on June 16, 1957, in Effingham, IL, the son of Edward "Ed" and Ruth (Meinhart) Deibel. He married Sonja L. Elmore on September 10, 1988. During their 30 years of marriage, they were blessed with two children, Eric and Sara. Dick loved his family and he was a devoted husband and father. He and his family were owners/operators of Sanitation Service Inc., "The Rubbish Gobbler", and Landfill 33. He was passionate about his work and was a successful businessman for 45 years. Dick was a lifelong member of Sacred Heart Church and worked on many projects in the community.
Dick was likely to be found riding around town on his Honda scooter or in his red 2003 Chevy SSR. If he wasn't cruising around town, you could find him boating on Lake Sara. One of his many accomplishments he was proud of was receiving his private pilot's license. Other hobbies of his included reading newspapers, following politics and cheering on local sports teams.
Dick was well known for his big heart, lively personality, and humor. He could make anyone laugh and was certainly one of a kind. He seemed to know everyone and everyone seemed to know him. He will be terribly missed by his family and friends.
Dick is survived by his wife, Sonja Deibel; two children, Eric and Sara; mother, Ruth Deibel; sisters, Paula (Charles) Tegeler and Julia (Brian) Hayes all of Effingham, and many nieces and nephews.
He was preceded in death by his father, Edward Deibel and mother-in-law, Betty Elmore.