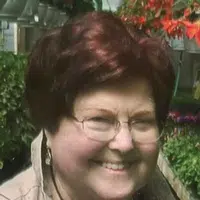 Mary J. Warner, 80 of Effingham, went to be with the Lord on Monday, November 5, 2018.
Funeral services will be held at 10:00 a.m. Thursday, November 8, 2018, at Bauer Funeral Home in Effingham with burial in Oakridge Cemetery. Visitation will be held Wednesday evening from 6:00 p.m. to 8:00 p.m. at the funeral home in Effingham. Memorial donations may be made to the Healing Garden at the Prairie Heart Institute in Effingham.
Mary was born February 12, 1938, in Decatur, the daughter of Andrew J. Jr. and Genevieve (Butts) Yoder. She married Robert Eugene Warner Sr. on February 10, 1957, at Long Creek Methodist Church, Decatur, and he preceded her in death in 2010.
Mary always looked forward to traveling, playing Bunco and was a member of Christ's Church in Effingham. She enjoyed spending time with her flowers, but especially time spent with her family, whether it be watching sporting events or playing board games.
Survivors include her son, Robert Jr. (Christy) Warner of Vandalia; daughters, Gail (Kimber) Warner of Mattoon and Nancy (Rick) Thompson of Effingham; grandchildren, Joshua (Kari) Thompson, Kimberly (John) Buening, Adam Warner, Arik Warner, Grant Fulk, Zachary (Jessica) Fulk, Katy (Nick) Strobel, Dylan Fulk and Jon (Johanna) Blum; 16 great-grandchildren; sisters, Carolyn Clendenen and Chris (Bob) Carlson, both of Oakley; brothers, David Yoder of Aubrey, TX, Ed (Cheryl) Yoder of Oakley and Terry (Bev) Yoder of Assumption.
She was preceded in death by her parents, husband and sister, Elaine.