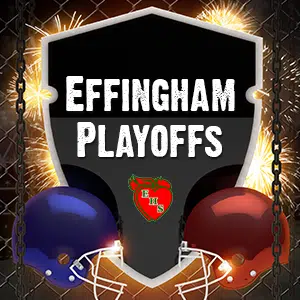 The Effingham Hearts are hitting on all cylinders right now winners of 9 in a row after their 2nd round 30-14 win over Paris.
Effingham opened the scoring in the first quarter on a 4th down play, Landon Wolfe connected with Kendall Ballman for a 30 yard TD. With that pass Wolfe broke the single season passing touchdown record set by Roger Arnold in 1967 with 21 on the season and the all time passing TD record set by Bob Walls in 1969-71 with 33 making it 7-0.  Paris would respond with a TD of their Nathan Zorn rushed it in from 4 yards out set up  by a 4th down conversion of their own that tied the game at 7-7.  The Hearts would take the lead back in the 2nd quarter after a very long 15 plus play drive, capped off by another TD pass from Wolfe to Ballman  from 23 yards out that made it 14-7.
Hearts would go up by two scores in the 3rd quarter when Logan Brown would spin his way into the end-zone making it 21-7. On the ensuing kickoff Caleb Mullinex would have a nice return to set up Paris with a short field. Mullinex would cap off the drive hauling in a 27 yard pass from Hunter Newlin to make it 21-14.  Effingham would start the 4th quarter with Wolfe sneaking it in from 1 yard out set up by a 45 yard run by Ballman, who was stopped just short of the end zone. The Hearts would cap off the scoring with a safety late in the game to make up the 30-14 final score.
It was another good defensive effort by the  Effingham D. They held the Paris rushing attack to under 50 yards. The ball hawking linebacker Mason Hasty had another interception (that's 4 in the playoffs alone if you're keeping track at home), Ballman would also add an interception as well. Paris also struggled to find a rhythm at QB Caleb Gates, still nursing a injured thumb on his throwing hand tried to give it a go but was clearly hampered by it when throwing the intermediate to deep pass. Hunter Newlin also took snaps at QB as well.
Effingham ends Paris perfect season and have won 9 games in a row. Effingham advances to the quarterfinals for the first time in 31 years (1987) and play the 10-1 Three Seed Kankakee (McNamara)  next Saturday at 2. Due to Kankakee hosting the previous two weeks and Effingham only hosting once IHSA rules state, after the first round in subsequent rounds the school that has hosted fewer times during the current playoff series hosts the game. So that means Effingham will host the game at Klosterman Field. The price of admission is $6 per person, everyone is encouraged to bring EXACT change. Stay tuned later in the week for our preview of the 3 Round Match-up.
Here Coach Hefner thoughts on the victory