Photo courtesy of Effingham Chamber of Commerce
Pictured Above (L-R): Chamber Ambassadors Steve Will & Jim Hecht; Ray Williams & Andrea Cash, Owners; Chamber Ambassadors Jerry Jansen & Jay Buehnerkemper and Jeremy Withrow, Sales Manager.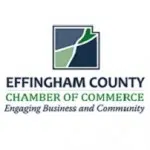 Effingham, IL -(Effingham Radio)- The Effingham County Chamber of Commerce celebrates the opening of new businesses and welcomes new Chamber members with ribbon cuttings, new member pictures and other events and activities.
Cash Equipment offers sales and rentals from a complete line of construction equipment and attachments, as well as professional parts and repair services. Their inventory includes air compressors, backhoes, forklifts, man lifts, mini excavators, portable light systems, scissor lifts, skid steers, telescopic forklifts, tractors, trenchers, and more. In addition, the company also offers augers, box blades, grapples and trencher attachments available for sale and rent. Visit their office at 615 E Rickelman, Monday – Friday from 7:30 am to 5:00 pm or online at www.cashequipmentllc.com.
About the Effingham County Chamber of Commerce
Founded in 1917, the Effingham County Chamber of Commerce is the county's leading advocate and champion for business. The Chamber works to create a climate of growth and success in our community by providing leadership opportunities as well as volunteer programs and businessbuilding initiatives that focus on the critical priorities of Effingham County businesses. By leveraging the support, talent, and resources of our members, the Effingham County Chamber is leading efforts to achieve business success and community growth.
For Chamber membership information, contact Becky Brown at (217) 342-4147.