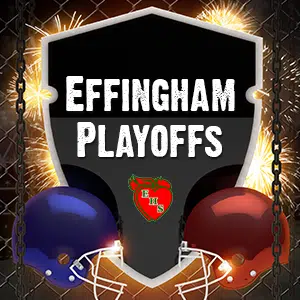 After getting a 21-6 win at Breese Mater Dei a former Apollo conference foe awaits the Hears in the 2nd Round, the undefeated 10-0 Paris Tigers.
Last week for Effingham they turned out their best defensive effort of the season thus far, including three interceptions by Mason Hasty. Effingham also used good field position set up by a couple of those interceptions to score those 21 points.  Paris so far is having their best season in school history. The Tigers  won the Little Illini Conference Title, their first conference championship since 1970. Paris finished the regular season undefeated for the first time in 55 years.  Last week they defeated Salem 42-14 which was their first playoff victory in school history. In that game tail back Coy Landrum scored on the first play from scrimmage 19 seconds into the game and they never looked back after that.  The defense was pretty good too, they allowed only 19 rushing yards and forced five turnovers. Speaking of that defense it is a  talented bunch the most points they have allowed all season was 27 to Olney in week 7. The Tigers averaged 46 points per game while giving up an average of 10 points per game.
Paris left the Apollo Conference in 2014 for the Little Illini Conference in Paris last season in the Apollo Effingham won 41-7 in 2013-14.  Their senior QB Caleb Gates did not play last week dealing with a broken thumb, Junior Hunter Newlin filled in his appsense he was 6-9 for 92 yards rushed for 47 yards and scored 2 touchdowns. The Tigers are a predominantly rushing team with junior Coy Landrum leading the way; Caleb Mullinex, Nathan Zorn and Newlin also are featured in this rushing attack. 
Kickoff for Saturday's game is at 2 at Klosterman Field. Gates will open at Noon.Per IHSA rules the price of admission is $5 for EVERYONE.   Get there early and parking will be at a premium