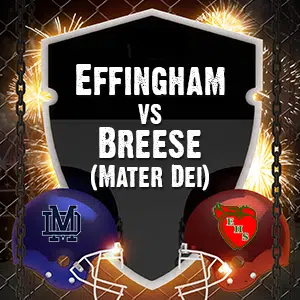 Mater Dei won the season opener this season 26-19 fast forward a couple months and 9 weeks later Effingham got their revenge by winning 21-6 on Saturday. It was an outstanding defensive effort by the Hearts as they held the Knights to 6 points and forced 3 interceptions all by Mason Hasty.
Effingham got on the board first in the opening quarter on a 1 yard QB sneak by Landon Wolfe, set up by a 53 yard jet sweep by Nate Shackelford. One of the stories of the day was the Hearts excellent field position, Effingham took advantage of that in the 2nd quarter. Kendall Ballman punched it in from 2 yards out, set up by a Mater Dei punt that hit a teammate in the back the Ballman touchdown made it 14-0. Right before the half it looked like Mater Dei would score and get some momentum going into the locker room, Hasty would come up with one of his big interceptions at the goal-line to end the half making it 14-0 at halftime.
The Hearts would score one more time another Ballman touchdown from 5 yards out made it 21-0. Mater Dei would respond quickly on the next possession QB Travis Jasper hit Garrett Foppe on a deep 81 yard pass along the near sideline Ballman would fly in and block the PAT to make it 21-6, which would end up being the final score.
Effingham improves to 8-2 on the season and now have won 8 games in row. The Hearts now advance to Round 2 for the second year in a row, to take on former Apollo Conference foe the 2 seed 10-0 Paris Tigers who defeated Salem 42-14. The 10-0 record for Paris marks their first undefeated regular season in 55 years also the 10 wins is a first in school history. Paris has stingy defense and has outscored opponents 458-108 this season. The game will take place at Klosterman Field on Saturday as of this writing at 2 0 clock.
Hear what Head Coach Brett Hefner had to say after the win