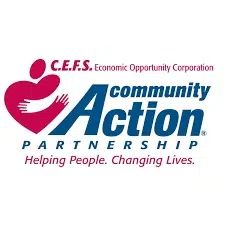 EFFINGHAM, IL-(Effingham Radio)- C.E.F.S. Economic Opportunity Corporation recently showcased their 53rd year of accomplishments demonstrating the fact that community action helps people and changes lives.  During the 2018 annual meeting, some very special people were recognized that had overcome obstacles in obtaining or maintaining self-sufficiency. According to C.E.F.S. Chief Executive Officer Kevin Bushur, "This past year our programs and services truly made a real difference in the lives of residents of the community."
Cabrenna Roberts was referred to the C.E.F.S. Effingham County Outreach Office in August 2017 because she needed assistance with obtaining housing for her family.  The Outreach Office was able to provide Cabrenna with emergency shelter for her family through the DHS Emergency and Transitional Housing Program. With assistance through C.E.F.S., Cabrenna was then able to obtain permanent housing when the DHS Homeless Prevention Program assisted with her deposit and first month's rent.  In addition, the Outreach Office staff were able to provide the family with utility bill assistance through the Low Income Home Energy Assistance Program. Cabrenna also utilized the C.E.F.S. Central Illinois Public Transit services to get around town. Further, two of Cabrenna's children were enrolled in the C.E.F.S. Head Start 0-5 Program. Cabrenna plans to pursue her High School Equivalency, using services through the C.E.F.S. Literacy Program in the future.  
C.E.F.S. Economic Opportunity Corporation provides outreach and referral services on our field offices in the seven county service area.  Staff members at the local offices are trained in basic information and referral to assist with problems relative to social services. The staff are trained and certified housing counselors who provide intensive case management services to individuals and families.  The local C.E.F.S. Outreach Office personnel are usually the first contact made with the agency for assistance. Some major programs offered directly by the offices are LIHEAP, weatherization, tax assistance, emergency food and shelter, budgeting, adult learning assistance, senior services and housing counseling.  If the Outreach staff cannot assist directly, a referral will be made to other programs and providers. The Community Services Block Grant Program is funded by the Illinois Department of Commerce and Economic Opportunity.
C.E.F.S. Economic Opportunity Corporation has been providing comprehensive social services for over fifty-three years for limited-income persons.  C.E.F.S. is a comprehensive human service provider offering direct services, referrals and linkages to address the issues facing low-income residents and providing local community solutions to meet those needs.  For more information about the community action agency or program please contact the local Effingham County Outreach Office at 217/347-7514, the C.E.F.S. central office at 217/342-2193 or visit the agency website at www.cefseoc.org or the agency Facebook page at www.facebook.com/cefseoc.