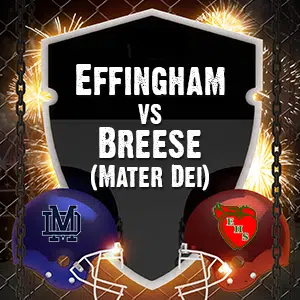 Effingham lost the first two games of the season, the second loss a blowout against Taylorville. Something clicked in this Hearts team a mindset changed. Since going 0-2 the Hearts have outscored their opponents 338-142 and Effingham enters the playoffs traveling to Breese Mater Dei riding a seven game win streak.
This is a rematch of week 1 of the season that saw Mater Dei win 26-19. Logan Ratermann for the Knights carried the ball 20 times rushed for 106 yards and found the end zone twice in week 1. Effingham turned the ball over 3 times in that game, a couple of those were due to the wet conditions that night. Neither team will have to worry about that this time around. As of this writing weather calls for 60 degree temps and 20 percent chances of precipitation, oh and Mater Dei has a beautiful turf field.
Recapping the season so far for the Knights, they went 6-0 to begin the year ranked in the top 10 in 4A polls during that time, dropped their first game 39-27 to Granite City, whose 5-4 record made it in to the playoffs. Their other loss came 20-10 to Lutheran South (St.Louis, MO). In that game Mater Dei was without their starting QB Travis Jasper due to illness and one of their leading tacklers Nic Sealhofer due to a knee injury. Mater Dei did win last week 55-27 against 0-9 Waterloo. In that game they also were without Jasper but Braundmeier filled in again tossing 5 TDs.
Both teams will be looking to show the other how far they have come since week 1.
Kick off of this game is at 2 o clock on Saturday in Breese. Listen on 100.5 105.5 Jack FM