Effingham, IL -(Effingham Radio)- HSHS St. Anthony's Memorial Hospital is pleased to announce recent promotions for several colleagues to its management team.
Stacey Bowlin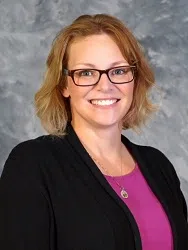 Stacey Bowlin has accepted a new role within St. Anthony's as the Manager of Admissions. In this role, she joins the management team and is responsible for oversight of registration and scheduling colleagues, and working on improvement projects to facilitate ease of scheduling. She previously served as the credentialing specialist. Bowlin received her bachelor's degree in Organizational Leadership from Greenville University.
Ashley Dillingham
Ashley Dillingham joins the management team as St. Anthony's Manager of Case Management. In this role, her focus will be related to evolving our case management model into a patient navigation model and working with local resources to improve patient discharge and services. Dillingham joined HSHS in 2015 as a social worker in Post-Acute Care. She has also been an extensive part of the outreach team. Prior to joining HSHS, she worked in case management at Belleville Memorial Hospital. Dillingham received her Bachelor of Arts degree in Anthropology/Sociology and Religious Studies from Rhodes College in Memphis, Tennessee.  She also has received her Master of Science degree in Social Work from the University of Tennessee.
Amy Koester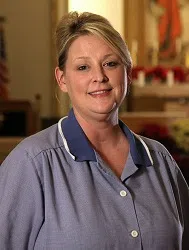 Amy Koester has been named the hospital's new Environmental Services Manager through Compass One, HSHS' contracted Environmental Services (EVS) providers. In this role, Koester will provide leadership to the EVS department. She has been with St. Anthony's since January 2017, and has been the facilitator in EVS since early 2018. She has completed several leadership courses provided by Compass One.
For more information about HSHS St. Anthony's Memorial Hospital, visit St. Anthony's web site at stanthonyshospital.org.  HSHS St. Anthony's Memorial Hospital is part of the Southern Illinois Division of Hospital Sisters Health System, which also includes HSHS St. Elizabeth's Hospital in O'Fallon, HSHS St. Joseph's Hospital in Breese, HSHS Holy Family Hospital in Greenville, and HSHS St. Joseph's Hospital in Highland.
About Hospital Sisters Health System
Hospital Sisters Health System's (HSHS) mission is to reveal and embody Christ's healing love for all people through our high quality, Franciscan health care ministry. HSHS provides state-of-the-art health care to our patients and is dedicated to serving all people, especially the most vulnerable, at each of our 15 Local Systems and physician practices in Illinois (Breese, Decatur, Effingham, Greenville, Highland, Litchfield, O'Fallon, Shelbyville, and Springfield) and Wisconsin (Chippewa Falls, Eau Claire, Oconto Falls, Sheboygan, and two in Green Bay). HSHS is sponsored by Hospital Sisters Ministries, and Hospital Sisters of St. Francis is the founding institute. For more information about HSHS, visit www.hshs.org.  For more information about Hospital Sisters of St. Francis, visit www.hospitalsisters.org.