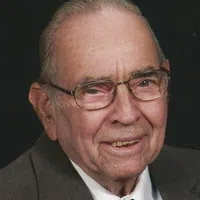 Paul Runde, 94 of Teutopolis, passed away Monday, October 22, 2018, at Heartland Christian Village in Neoga.
A Mass of Christian Burial will be held at 10:30 a.m. Thursday, October 25, 2018, at St. Francis of Assisi Catholic Church in Teutopolis with burial in St. Francis Cemetery with military rites. Visitation will be from 4:00 to 7:00 PM Wednesday evening with a parish wake service at 6:00 p.m. and a Knights of Columbus rosary at 7:00 p.m. Memorial donations may be given to the donor's choice.
Paul was born on October 14, 1924, in Teutopolis, the son of Herman J. and Mary B. (Siemer) Runde. He married Marian C. Niemerg on June 12, 1948, and she preceded him in death on May 18, 1985.
Paul served in the Army Air Corp during World War II and was proud of his service. He was a charter member of the Teutopolis American Legion Post #924 and a member of the Teutopolis Knights of Columbus Council #2874. He worked at Siemer Milling Company in Teutopolis for 38 years.
Paul is survived by his sons, Tom, Don and Dave Runde; daughter, Karen (Mark) Kemme; 6 grandchildren and 9 great-grandchildren; sister, Mary Angela Runde; brother, Gene Runde; sister-in-law, Ellen Runde and brother-in-law, Don Hardiek.
He was preceded in death by his parents, wife and brothers Joe, Herman, and Bill Runde.