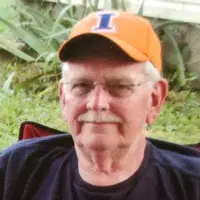 Jerry Lynn Burnell, 75, of Noble, Illinois, passed away at 7:15 PM – Saturday, May 26, 2018, at his home.
Graveside services will be at 1:00 PM – Sunday, November 4, 2018, at the Honey Cemetery in Bogota, Illinois, with Brett Wright officiating. Arrangements are under the care of the Meyer Funeral Home in Newton, Illinois.
Jerry was born on August 16, 1942, in Effingham, Illinois, the son of Royal and LoDema (Devall) Burnell.  He married Janice Kay Zimmerman on December 12, 1963, at the Bogota Baptist Church.
Jerry was a Teacher and Principal in the West Richland School System.  He served his community for several years as the supervisor of Noble Township, in Richland County.  In his spare time, he enjoyed woodworking, working around his yard, or enjoying a ride on his motorcycle or in his convertible.
Jerry is survived by Wife of 54 years Kay Burnell of Noble, Illinois
Daughters- Jana (Jim Worrell) of Noble, Illinois and Jennifer Brown of Parkersburg, Illinois
Grandchildren- Lily Brown of DeSoto, Illinois; Pandora Worrell of Noble, Illinois; Austin Worrell of Noble, Illinois and Hunter Miller of Noble, Illinois.
Jerry was preceded in death by his parents and a sister Joan Bane.