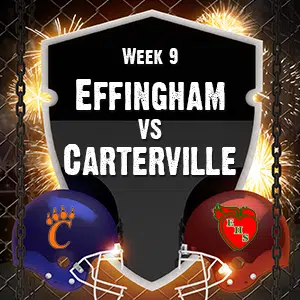 After dropping the first two games of the season the Hearts have now won 7 games in a row after their 46-26 win over Carterville. Effingham have a lot of momentum and confidence going into the playoffs next week, where and who they play is still to be decided, the Hearts will find out that Saturday night.
As for the game Friday night, Effingham used their rushing attack one two combo of Logan Brown and Kendall Ballman, each with 3 rushing touchdowns on the night. Ballman would score two of those TDs in the first quarter, the Lions QB Keaton Pestka had a couple nice runs scoring from 7 yards out to make it 13-7 after  one quarter. The scoring continued in the second quarter Brown would find the end-zone form 10 yards out. On the ensuing kickoff Mr. Everything for Carterville Colin Laczynski fumbled the kickoff, then picked it up at the 5, then ran it 95 yards back for a touchdown. Brown would answer right back with another touchdown to make the score at halftime 26-13 in favor of the Hearts.
Pestka would start the scoring off in the 2nd half finding the end-zone to cut the lead to 26-20. Ballman would answer that with a 53 yard touchdown for his third on the night, to stretch the lead to 32-20. Laczynski would take advantage of an interception punching it in from 6 yards out to make the score 32-26. That was the closest Carterville would get the rest of the night, the Hearts would score two more times to put the game away, Brown would score his 3rd of the night from 3 yards out and Landon Wolfe would find Cameron Kalber in the back of the end-zone for a 7 yard TD pass to cap off the scoring.
The Hearts finish the regular season 7-2 and are hoping for a home playoff next week. Effingham will find out who they play in the playoffs as brackets will be reveled starting at 8 o clock the 4A Bracket will be reveled around 8:40.
We have all the playoff coverage on 98.9 The Game WHQQ from 7 – 10 P.M.
Here Head Coach Hefner thoughts on the game