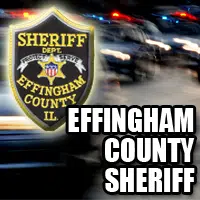 EFFINGHAM COUNTY, IL-(Effingham Radio)- The Effingham County Sheriff's Office, in cooperation with the Professional Towing and Recovery Operators of Illinois, is proud to announce the first National Move Over Day, Saturday, October 20, 2018.
Every six days in our nation, a tow operator is killed while working on or near the roads and highways of our country.
This is in addition to the police officers, firemen, paramedics, state highway and construction workers that are killed or injured every year while doing their job.
It is a dangerous job, working on the roadside, which is why we are asking the public to slow down and move over whenever they see tow trucks, law enforcement, firefighters, paramedics, or highway workers, as well as ANY vehicle that is sitting on the side of the road.
The men and women that work out on the highways all have families and people that love them.
By being more attentive to your driving, you may help save a life.
It only takes a moment to save a life, and it only takes a moment to take a life.
Please SLOW DOWN AND MOVE OVER so they can all make it back home to their loved ones.