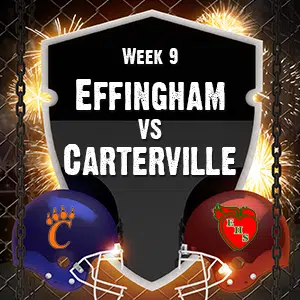 Effingham looks to close out the regular season by winning 7 in a row this Friday Night for senior night at Klosterman Field as they take on Carterville. Effingham won last week 41-21 against Mattoon. The Hearts used the combination of gutsy play-calling, going for it on 4th down several times and the rushing attack of Ballman and Brown both scoring 2 rushing touchdowns.
Carterville won last week 25-3 over Pinckneyville. The win gave Carterville their third win of the season, that puts them at 3-5 on the season. So with the 5 losses eliminates them from playoff contention, so they essentially have nothing on the line this week but their pride. Carterville mascot is the Lions and started off the season with a win against Benton. Then dropped 5 in a row in the middle of the season all against solid competition. But now have won  two in row and look to close out the season on a high note.
The Lions  appear to predominantly be a running team with senior QB Keaton Pestka and senior RB Colin Laczynski leading the rushing attack. The Lions are having a down rebuilding year for their standards. Last year's playoff appearance made it 22 out the last 23 years. Effingham with a win would get to 7 and after starting the season 0-2 seven wins would be a outstanding turnaround. The Hearts with the win last week officially clinched a playoff berth for the second year in a row. It is senior night for Effingham and they will celebrate the senior football players, cheerleaders and band members before the game on Friday.
Listen to the game on 100.5 and 105.5 Jack FM kickoff is at 7
Also don't forget about The Starting Lineup special playoff selection show from 7 – 10 P.M. on 98.9 The Game WHQQ on Saturday to see where and who Effingham will be playing in the postseason