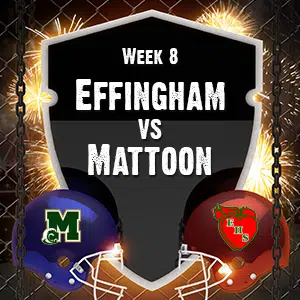 Effingham continues to rack up the wins winning against Mattoon 41-21 to push their win streak to 6.  The Hearts used ball control, an excellent ground game and a timely turnover to secure the win. Mattoon had no answer for Kendall Ballman who found the end zone three times and Logan Brown who found the end zone twice.
Effingham got out to a good start a 14-0 lead on touchdowns by Ballman and Brown. Mattoon would get on the board mid way thru the 2nd quarter on 8 yard run by Tucker Overton to make it 14-7. Then 13 seconds before the half eneded Landon Wolfe would hit Kollin Waymoth on 4th and goal from the 2 yard line to make the score 21-7 at halftime.
Effingham would again score on a 4th down play this time Kendall Ballman took it straight up the middle, opened up by some good blocking by the o-line for a 38 yard touchdown that made it 28-7. The Green Wave took advantage of a short field off a a blocked punt, they converted a 4th down of their own a  5 yard TD pass from Pilson to Caden Price that made it 28-14.
Then the play that put the game away for good Kaleb Kihne would recover a Pilson fumble to end a drive for Mattoon and Ballman would finish the drive off and punch it in from 2 yards out  to make it 35-21. Pilson would throw for another touchdown and Brown would score again to cap off the scoring to come up with the 41-21 final. Effingham after losing the first two games of the season, now have won 6 in row and stand at 6-2 and 5-1 in the Apollo good for second in the conference. The Hearts come home next week to close out the regular season for senior night against Carterville. With the 6 wins Effingham are now officially headed back to the playoffs.
Here Head Coach Brett Hefner's thoughts on the game