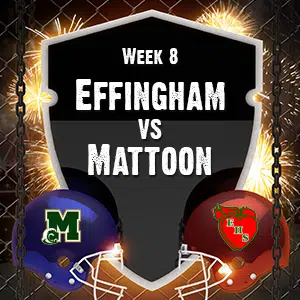 Effingham lost the first two games of the season since then have rallied off 251 points, averaged 50 points a game and won 5 games in a row.  That win streak will be tested this week against the Mattoon Green Wave.
Last week Effingham defeated Charleston on homecoming 56-34. Landon Wolfe continued he's string of good games  throwing 4 TDs (two of those touchdowns went to Nate Shackelford) bringing his passing touchdown total during this win streak to 15. For Mattoon they are coming off a blowout against Taylorville 54-17 (something Effingham knows a little bit about). The Green Wave could never get anything going and just as quickly as the game started  Taylorville got off to a 12-0 lead and never looked back.  The lead was 32-7 at halftime, the Tornadoes would add a couple more touchdowns  and Mattoon would add a field goal and a touchdown for the 54-17 final.
One player Effingham will have to contend with is senior quarterback Jack Pilson. Pilson has a good arm but is just as dangerous on the ground, using his quickness and elusiveness as he is throwing the ball. Both teams come into this game at 5-2 and  is a pivotal game for both squads to improve their playoff resumes. The winner gets to 6 wins  and can rest a little bit easier on playoff selection  Saturday knowing they are solidly in the playoffs The loser will have one more game improve their playoff resumes.