Night features original Gettysburg performance starring Hamilton Chicago's Miguel Cervantes, parade of sports champions, Members of the Chicago Symphony, REO Speedwagon, other Illinois bands and celebrities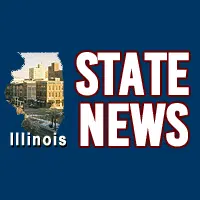 CHICAGO, IL-(Effingham Radio)- An original musical rendition of the Gettysburg Address with Miguel Cervantes will be featured in a night of tributes to Illinois entertainers, with performances by Illinois' top musicians, a Chicago sports championship parade, and a star-studded cast of Illinois celebrities for the state's Bicentennial Birthday Party at the United Center Dec. 3.
Details for the event were revealed today at a press briefing hosted by Second City and Saturday Night Live alum Tim Kazurinsky from the Museum of Broadcast Communications, whose interactive Saturday Night Live Exhibit served as a fitting backdrop.
"It's amazing how many people from Illinois have contributed so momentously to history, theater, film, art, entertainment, science, sports and politics," Kazurinsky said. "There are way too many to put on flashcards, but if people come to the show, they'll see just how entertaining and impactful Illinoisans have been."
The program for the 200th Birthday Party features six acts that highlight the people, places, events and innovations that were Born, Built and Grown in Illinois.
Among the most anticipated acts is a tribute to the state's greatest citizen, Abraham Lincoln, that includes a special musical rendition of the Gettysburg Address starring Miguel Cervantes, who plays Alexander Hamilton in Chicago. Broadway In Chicago along with Musical Director Michael Keefe and Broadway In Bronzeville have created this musical adaptation that will be performed along with Broadway In Chicago's Illinois High School Musical Award-winning students from across the state.
"We are excited to be part of this celebration," said Lou Raizin, president of Broadway In Chicago. "It is an honor to present a dramatic musical adaptation of this historic speech performed by Miguel, Chicago's own Hamilton, and our amazing young talent."
REO Speedwagon, recently voted Illinois' top musical group in a recent statewide Bicentennial survey, will rock the United Center as part of the tribute to Illinois entertainment. REO's Kevin Cronin addressed reporters remotely while on tour to express the band's excitement. "We've been thrilled to fly the flag as proud Midwesterners and Illinoisans throughout our careers and we are honored to come and celebrate our home state's 200th birthday. Hey Illinois … get ready to party."
For the sports segment of the show, the United Center will be transformed into a parade of Olympic Champions, championship team owners, legends, trophies and celebrity fans who will recreate celebrations of Illinois' greatest sports moments. The Bears, Blackhawks, Bulls, Cubs and White Sox will be well represented.
The Rockford Peaches also will be recognized on the 75th anniversary of their first All-American Girls Professional Baseball League championship.
Legendary Blackhawks anthem singer Jim Cornelison will do the honors to open the party.
Previously confirmed to participate are members of the Chicago Symphony Orchestra, Styx, Blues legend Buddy Guy, Olympic Champion Jackie Joyner Kersee, Bill Kurtis and Joe Mantegna.
Bicentennial Office Executive Director Stuart Layne noted there will be other celebrities added to the program and many surprises in store for the evening. "If you think about the big names associated with Illinois history, entertainment and sports, we're inviting them all," he said.
Program:
Opening- Bill Kurtis intro, National Guard Color Guard, Jim Cornelison to sing national anthem
Act 1- Born Built and Grown-Why we are celebrating
Highlight the people, places, events, and innovations that make us Illinois Proud
Act 2- Veterans
Members of the Chicago Symphony Orchestra play piece from the movie "Lincoln" (John Williams' composition)
Joe Mantegna narrates Illinois Veterans video
Recognize Bicentennial HONOR 200 veterans
CSO plays Armed Forces Medley
Act 3- Illinois entertainment
Video of iconic Illinois movies, theater, shows, actors
Illinois Rock bands perform (Styx, REO, other collaborators)
Act 4- Sports
Jackie Joyner Kersee,
Video- History of NFL/Bears
Championship Parade:  Owners, players, trophies and celebrity fans from:
Bears, Bulls, Cubs, White Sox, Blackhawks, Rockford Peaches, Olympic champions
Act 5- History/Culture
Lincoln video
Gettysburg Address Rap – "All People are Created Equal" – Miguel Cervantes (Hamilton, Chicago) with 24
Illinois High School Musical Theatre Awardees
Act 6- History of Chicago Blues               
Video chronicling migration of Jazz and Blues from Louisiana to East St. Louis to Chicago
King of Chicago Blues Buddy Guy, his band performs finale
Ensemble of guests sing "Sweet Home Chicago," "Happy Birthday," celebratory birthday cake from Eli's Cheesecake
Tickets are only $75 and $50 and are on sale through Ticketmaster and at the United Center box office.  For information go to www.illinois200.com
The Sheraton Grand Hotel is the Official Hotel of the Bicentennial Birthday Party.  For event discount: https://book.passkey.com/gt/217155572?gtid=640413d02234f1b2eb6cba0769bcf817