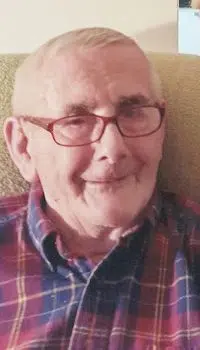 Rolland Cook, age 87, formerly of Effingham, Illinois passed away at 5:15 a.m. Tuesday, October 9, 2018, at Meadows Manor North in Terre Haute, Indiana.
Graveside service will be at 1:00 p.m. Saturday, October 13, 2018, at Keen's Chapel Cemetery in rural LaClede, Illinois. Military Rites will be observed.
Rolland was born on September 21, 1931, in Fayette County, Illinois, the son of George W. and Eva (Huffman) Cook. He married Lora Lee Landreth on July 20, 1973, in Mt. Vernon, Illinois. He served in the US Army during the Korean War. Rolland enjoyed gardening, listening to baseball games and spending time with his family and friends.
He is survived by his two daughters, Sheryl Kihlken (husband Bob) of Terre Haute, Indiana and Julie Nelson (husband Rodney) of Burlington, Iowa; four grandchildren; one great-grandchild and two on the way.
He was preceded in death by his parents, George and Eva Cook; wife, Lora Lee Cook; six brothers, Jim Cook, Ed Cook, Fred Cook, Bill "Shorty" Cook, Charlie Cook, Bob Cook; two sisters, Millie Cook and May Cook.