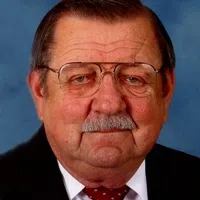 Charles W. "Chuck" Allen, 78, passed away unexpectedly Friday, October 5, 2018, at his home in Effingham.
A memorial service will be held at 7:00 p.m. Thursday, October 11, 2018, at Bauer Funeral Home in Effingham with Pastor Carroll Lewis, officiating. Visitation will be held from 4:00 p.m. to time of service, Thursday evening at the funeral home with an Elks service to immediately follow. In lieu of flowers, memorial donations may be given to the Effingham Elks Lodge #1016 Handicapped Children's Auction and will be accepted at the funeral home.
Chuck was born January 14, 1940, in Wathena, Kansas, the son of Francis L. and Rosa L. (Juhl) Allen. He married Jean Faires on June 5, 1960, and she survives. Over the years, Chuck was employed by various businesses making wiring harnesses for Kenworth, Peterbilt, Mack Trucks and Ford and Chrysler cars, as well as Whirlpool Corporation. For the past 10 years, he worked with Dust & Sons in Effingham. Chuck was a member of Zion United Church of Christ in Wathena, Kansas, the Effingham Elks Lodge #1016 and a 32nd degree Mason. He enjoyed fishing and hunting with his grandson and playing golf.
Chuck is survived by his wife, Jean of Effingham; daughter, Pamela Emmerich (fiancé, Tim Rieman) of Wheeler; grandson, Keaton L. (Alicia) Emmerich of Effingham; brothers, Paul (Judy) Allen of Lenexa, KS and Fred Allen of St. Joseph, MO; mother-in-law, Alma Beth Faires of Savannah, MO.
Chuck was preceded in death by his parents; son-in-law, Lee Emmerich; sister-in-law, Ruthie Allen and father-in-law, Donald Faires.