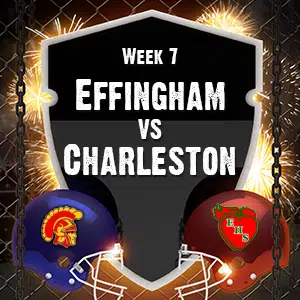 Effingham continues on rolling pushing their win streak to 5, winning 56-34 against Charleston on homecoming. Charleston didn't make it easy as it was a one point game until midway thru the 3rd quarter when Wolfe connected on a short 5 yard pass to Nate Shackelford then Shackleford did the rest running it in and after all was said and done a 61 yard TD, Effingham never looked back after that.
Scoring came early and often, early in the first quarter Wolfe connected on a 52 yard TD pass to Tristan Duncan to give Effingham the 7-0 lead. Charleston would then take advantage of a short field after a Hearts interception Trojans QB Dalton Haworth punched it in from 14 yards out to tie the game at 7. Wolfe would find Jacob Briggerman twice on the next drive finishing off with Briggerman hauling in a 10 yard TD. Effingham and Charleston then would trade touchdowns in the high scoring 2nd quarter.
For Effingham Kendall Ballman  would score twice, once on a 8 yard run and another on a 80 yard kickoff return. For Charleston Brayden Doyle (5 yards), Nick Sweeney (1 yard) and with 2 seconds left in the quarter Haworth would find Taylor Edwards in the back of the endzone to tie the game at 28.
The Hearts would get the ball first in the 2nd half and they took advantage of it, Wolfe found Shakelford on a 64 touchdown to make it 35-28. Charleston would find the endzone one more time, Haworth found a wide open Nick Sweeney from 10 yards out to appear to tie the game but the Trojans missed the extra point and that make it 35-34. Effingham would put the homecoming game to bed with two more touchdowns plus the 61 yader to Shackelford. Logan Brown would see the field after being out last week with a elbow injury, scored from 10 yards out then Kendall Ballman would finish off the scoring on the night going in from the 1 yard line.
The final score was 56-34. Landon Wolfe had another nice night slinging 4 TDs, Kendall Ballman had 2 rushing TDs and a kickoff return for the second straight week and Nate Shakelford had 2 receiving TDs.  Effingham after dropping the first two games of the season, the Hearts have now won 5 in a row and with the 5 wins are now playoff eligible improving to 5-2 on the season. Charleston drops to 0-7 on the season and now have lost 17 games in a row. Effingham closes out the Apollo conference season next week as they travel to face the Mattoon Green Wave.
Hear Head Coach Brett Hefner's thoughts on tonight's game