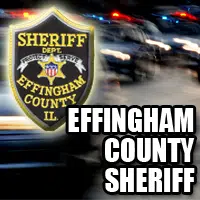 DIETERICH, IL-(Effingham Radio)- The Effingham County Sheriff's Office and Effingham County Coroner's Office are investigating the death of a rural Dieterich woman.
On 09/26/2018 at approximately 3:10 AM, the Effingham County Sheriff's Office and the Watson Fire Protection District was dispatched to 5271 N. 1700th Street in rural Dieterich regarding an unresponsive female in the bathroom of the residence.
The Watson Fire Protection District and the Effingham County Sheriff's Office arrived at the scene and found the female unconscious.
Sheriff's Deputies administered NARCAN and Watson Fire Protection District performed CPR on the female.
She was transported to St. Anthony's Memorial Hospital and later pronounced dead.
Effingham County Coroner Kim Rhodes has identified the female as Taylor Leigh Charles, age 24, of rural Dieterich.
The Effingham Coroner's Office and the Effingham Sheriff's Office are conducting a joint investigation and an autopsy is scheduled for the morning of September 27th.
The investigation into the incident is ongoing.