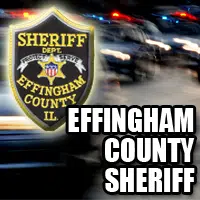 BANNER TOWNSHIP, IL-(Effingham Radio)- A Strasburg teen was injured in an accident that occurred in Banner Township on Sunday.
According to a report from the Effingham County Sheriff's Department, the accident occurred on IL 32, approximately 1/4 of a mile south of 200th Avenue, at 3:17pm.
The report states that a vehicle driven by 19 year old, Hannah M Schumacher, of Strasburg was traveling northbound on IL 32, when she came up behind a tractor.
Schumacher attempted to stop, lost control of the vehicle, entered the west ditch, and struck a tree and a culvert.
Schumacher sustained injuries and was taken to HSHS St Anthony's Memorial Hospital for treatment.
Schumacher was cited for failure to reduce speed to avoid an accident.