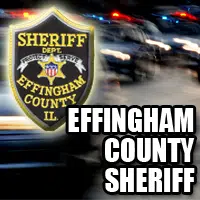 BANNER TOWNSHIP, IL-(Effingham Radio)- One person was injured in an accident that occurred in Banner Township on Saturday.
According to a report from the Effingham County Sheriff's Department, the accident occurred at 6:19pm at the intersection of 1800th Avenue and 900th Street.
The report states that a vehicle driven by 23 year old, Terry LR Walls, of Beecher City was traveling southbound on 900th Street.
At the same time, a vehicle driven by 40 year old, Tammy S Manhart, of Stewardson was traveling eastbound on 1800th Avenue.
The Walls vehicle then began traveling through the intersection and struck the Manhart vehicle.
Walls sustained injuries and was taken to HSHS St Anthony's Memorial Hospital for treatment.