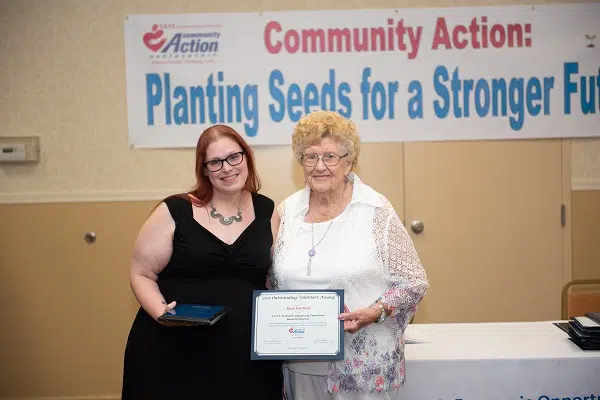 Pictured Above (L-R): Mara Fairfield and Board Chairperson, Jean Finley.
Effingham, IL -(Effingham Radio)- C.E.F.S. Economic Opportunity Corporation recently recognized volunteers that helped the agency achieve its mission. According to C.E.F.S. Chief Executive Officer Kevin Bushur, "The agency recognized outstanding acts of volunteerism and civic involvement to help transform lives and to build stronger communities."
For giving the gift of valuable time to help others, C.E.F.S. recognized Mara Fairfield as a 2018 Outstanding Volunteer. C.E.F.S. Chief Executive Officer Kevin Bushur commented, "The agency and program accomplishments would not have been attained without the shared commitment, dedication and involvement of our outstanding volunteers." Bushur continued, "It was a privilege to honor Mara Fairfield with the 2018 outstanding volunteer award recognition."
Since 2009 Mara Fairfield has been a volunteer for the Head Start 0-5 Program in various capacities. Mara has served on the Health Service Advisory and Eligibility Recruitment Selection Enrollment and Attendance (ERSEA) Committees as well as a volunteer in the Head Start classrooms. She has assisted with providing supervision during field trips, has completed activities at home, and has donated supplies to the Head Start Program. Mara also participated in Parent Committee meetings and has served on Policy Council as a parent and community representative since November 2015. She currently is serving as chairperson. Mara also participated in the last federal monitoring review. During the years that Mara has volunteered for the Head Start 0-5 Program she has contributed a total of $6,695 worth of non-federal share match. According to Head Start 0-5 Program Director Connie Jerden, "Mara has been a consistent, committed volunteer in the classroom and in her service on various committees and the Policy Council."
Head Start is a federally funded program which has been in existence since 1965. The C.E.F.S. Head Start 0- 5 Program offers center-based services to preschool children and home-based services to pregnant women, infants and toddlers in the seven counties in the C.E.F.S. Economic Opportunity Corporation's service area. Head Start Program eligibility is largely income-based, although other eligibility criteria such as disabilities and services needed by the family are also used to determine acceptance into the program.
The Head Start 0-5 Program provides comprehensive early childhood education, health and developmental screenings, parent involvement opportunities and family socialization. Head Start promotes school preparation by enhancing the social and cognitive development of children through the provision of educational, health, nutritional, social and other services. The program's services and resources are designed to foster stable family relationships, enhance children's physical and emotional well-being and establish an environment to develop strong cognitive skills.
The Head Start philosophy is to provide all children with individualized care and guidance in reaching their potential. The program is funded by the U.S. Department of Health and Human Services.
The mission of C.E.F.S. is to provide opportunities for people through education and support to achieve and maintain self-sufficiency. The programs and services offered through C.E.F.S. Economic Opportunity Corporation make a real difference in the lives of residents of the community. C.E.F.S. Chief Executive Officer Kevin Bushur stated, "Nearly 3,500 volunteers provided nearly 154,000 volunteer hours working very hard this year to help the agency achieve coordinated efforts to truly benefit low-income people."
C.E.F.S. Economic Opportunity Corporation has been providing effective social services for over 53 years for low-income persons within their service delivery area. C.E.F.S. is a comprehensive human service provider in the service delivery area providing direct services, referrals and linkages to address the issues facing low income residents and providing local community solutions to meet those needs. For more information about the community action agency or program please contact the local C.E.F.S. Effingham County Outreach Office at 217/347-7514, the central office at 217/342-2193 or the agency website at www.cefseoc.org or the agency Facebook page at www.facebook.com/cefseoc.