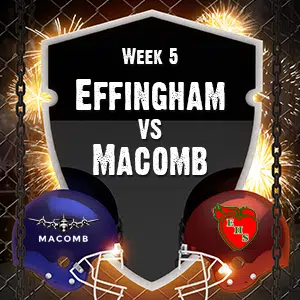 Effingham makes the long road trip to Macomb this Friday Night,  a 372 mile roundtrip road trip to be exact. Luckily for Effingham the high school has a half day on Friday and according to Head Coach Brett Hefner,  the team plans on splitting up the trip by make a quick stop at Illinois College in Jacksonville along the way.
Effingham comes into the game off of a 36-0 shutout against Lincoln last week. For Macomb they are coming off a 55-0 loss to Mt. Zion.  In this game which teams will show up, the Effingham team that lost the first two games or the Hearts team that put up 41 and 36 points in the past two weeks. Same goes for Macomb what Bombers team will we see.  The one that got blown out last week and that lost the first game of the year to Lincoln, or the team that scored 32 and 34 points in their two wins this season.
Macomb lost to Mt. Zion and Lincoln, Effingham beat Mt. Zion and Lincoln, so If you're a believer in the transitive property of equality Effingham has a good shot at winning. Don't overlook the Bombers however as they are led by sophomore QB VJ Lane who has some good numbers in their two wins this season (30-52 7 TDs 329 yards).
Can't make the trip to Macomb catch all the action on 100.5 and 105.5 Jack FM and streaming on the Effingham Radio App.