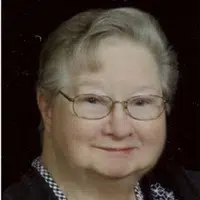 Clara Jo McKinley, 86, passed away Tuesday, September 18, 2018, at her home in Effingham.
Funeral services will be held at 3:00 p.m. Monday, September 24, 2018, at Bauer Funeral Home in Effingham with burial in Marissa Cemetery at a later date. Visitation will be held from 1:00 p.m. to time of service, Monday at the funeral home. In lieu of flowers, memorials may be given to the American Cancer Society or the Alzheimer's Association.
Clara was born January 10, 1932, in Tilden, the daughter of the late Ray and Grace (Hemphill) Church. She married Dwight C. McKinley on August 4, 1951, and he preceded her in death in 2002. Clara was employed in customer service with World Color Press in Effingham for over 20 years and was a member of the First Presbyterian Church in Effingham.
Clara is survived by her daughters, Sheri and Lisa, both of Effingham; granddaughter, Courtney and sister, Marilyn (Elden) Reuss of Marissa.