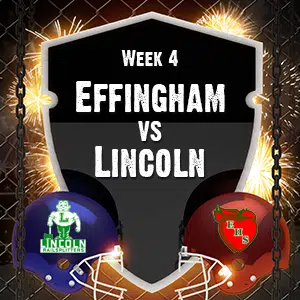 Effingham got their second  win of the season by shutting out Lincoln 36-0 Friday night. Ivan Angel got the Hearts on the board first with a 34 yard FG to make it 3-0 in the 1st quarter. Logan Brown took  it in from 1 yard out set up by a big pass play from Landon Wolfe to Tristin Duncan.
Effingham continued the scoring in the 2nd quarter Jacob Briggerman hauled in a 5 yard TD pass. The Hearts would go into halftime with a 16-0 lead then Wolfe threw 2 more TD passes in the 3rd. One 32 yard strike to Duncan then on another short 19 yd pass to Briggerman that made the score 29-0 after 3 quarters .
Kendall Ballman would cap off the scoring early in the 4th quarter by running it in from 19 yards out. Lincoln falls to 1-3 overall and 0-3 in the Apollo and faces Taylorville next week. Effingham is now back to.500  at 2-2 overall  and 2-1 in the Apollo and go back on the road next week traveling to Macomb.
Listen to Head Coach Brett Hefner's thoughts on the game