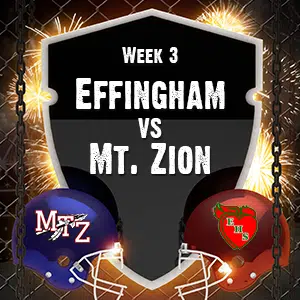 Effingham got their first win of the season by taking down the Mount Zion Braves 41 to 14. It was a total team win by the Hearts they scored in all three phases of the game offense, defense, and special teams.
Effingham got on the scoreboard first after taking advantage of a short field from a botched punt by Mt. Zion Kendall Ballman would punch it in from one yard out to make the score 7-0.  After  two punts by Effingham and a  Braves missed field goal, on  Effingham's next possession Logan Brown scored his first touchdown of the game  running it in from 23 yards out to make it 13-0 with about 4 minutes left in the 1st quarter. The first quarter ended with a bang a 61-yard touchdown run by Mount Zion's Sage Davis and in the second quarter the scoring would continue. Landon Wolfe completed a short 5 yard pass to Kollin Weymoth. Right before the first half ended Mount Zion would score again on a 19-yard pass to  a wide open Jayse Booker.
It was all Effingham in the second half Brown would punch it in again scoring his second touchdown of the night, this one from 33 yards out. Then late in the third quarter down came the rain and wash the Braves out. Effingham would extend their lead on a blocked punt recovered in the endzone by Kaleb Kihne and a interception return by Logan Brown for his third touchdown of the night. The final score ended up being 41-14 in Effingham's favor Landon Wolfe had a nice game spreading the ball around to six different receivers. Effingham  improves to 1-2 overall and 1-1 in the Apollo. Mount Zion falls to 2-1  overall and 1-1 in the Apollo. Effingham travels to Lincoln for their next game. Their first time on the road this season beginning of a 3 game road trip.
Individual statistics
Effingham
Landon Wolfe 15/23 / 164 yards 15 yards rushing 1 TD 1 INT
Kendall Ballman 12 rushes for 46 yards and 1 TD
Logan Brown 18 rushes 153 yards 2 TDs
Tristan Duncan 4 catches 37 yards
Busher  4 catches 35 yards
Briggerman 2 catches 27 yards
Stoneburner 1 catch 7 yards
Kalber  3 catches 28 yards
Weymoth 1 catch 5 yards 1 TD
Mount Zion
Summers 9/16 128 yards 1 TD 1 INT
Carpenter 2/5 12 yards
Davis 18 rushes 107 yards 1 TD
Booker 2 catches for 35 yards 1 TD
London 3 catches 44 yards
Bartels 1 catch 14 yards
Davis 1 catch 4 yards
Ripple 1 catch 8 yards
Brandon 1 catch 38 yards
Hear Head Coach Brett Hefner thoughts on the game